Mac Miller @ O2 Academy, Bristol 02.10.13
Mac Miller has had a rather successful 2013 so far, seeing his new album Watching Movies With The Sound Off reach number 3 in the US charts, alongside a sold out show at London's Plan B with Odd Future affiliates, The Internet.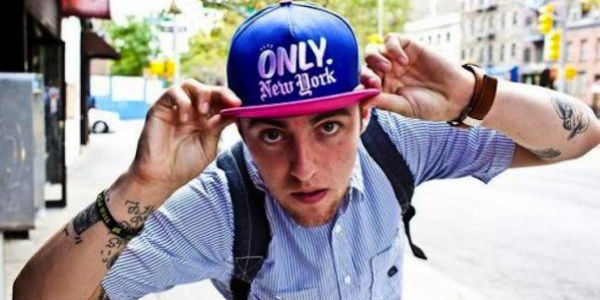 Before the main event though came
Rockie Fresh
. The Chicago born rapper, who is signed to Rick Ross'
Maybach Music
label, did little to catch the eye. While there was nothing wrong with his set, it lacked any real sense of energy or direction. Instead he seemed to simply meander between several tracks which seemed as though they'd be drastically cut down in an attempt to cram as much in to the time slot as possible. That being said, there were definitely positives to take away, when Rockie's lyrics came to the fore he showed evidence of a young man who knows how to write a song. If he continues to work on the performance aspect of his show there's no reason Rockie Fresh couldn't emulate the successes of similar artists of recent times.
From the moment
Mac Miller
arrived on stage the atmosphere in Bristol's O2 Academy was electric. Opening with a medley of new tracks the crowd was instantly in the palm of his hand, repeating his every word. Not bad for a 21 year old kid from Pittsburgh.
The energy didn't dissipate for the duration of Mac's set as he hopped from his mature street influenced new material to older, more lighthearted tracks. However, despite the consistent quality of his tracks, it was perhaps the classics which elicited the best response. Perhaps understandable given the inherent, sing-along hooks and choruses of tracks like 'Knock Knock' and 'Donald Trump'.
All this hyperbole completely overlooks arguably the most important part of any show, the music. Thankfully with Miller there was nothing to worry about. His blend of different styles of hip-hop and rap, coupled with exemplary production skills, highlighted Miller's talents as a rapper. Rather than stagnate in the enjoyable but juvenile material of his early career, Miller has developed and worked on his sound, adding depth to his back catalogue ensuring that the show stayed fresh.
Overall, Mac Miller's show in Bristol was a masterclass of an artist completely comfortable in his own skin, who knows his audience and can lead them from track to track with confidence and humility. Based on the evidence of this show and the success of his new album, Mac's career looks set to continue on an upward trajectory, propelling him from 'Kool-Aid and Frozen Pizza' to a rather more glamorous lifestyle.