Mac DeMarco @ Liverpool Mountford Hall @ 21.11.17
On his debut performance in Liverpool, the LA based troubadour wins over a sweltering, capacity crowd at the University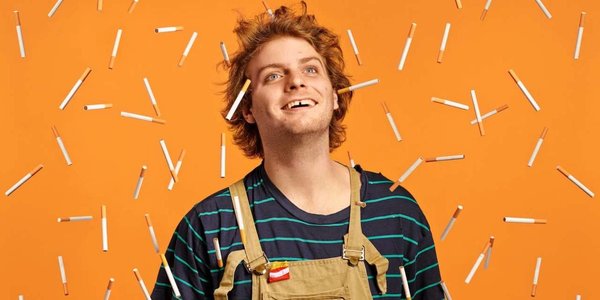 Mac Demarco
effortlessly conquered Liverpool's Mountford Hall this November, playing his first show in the city with the signature cool style and charm we've come to associate with him with. If there wasn't someone dressed like DeMarco, there was someone adoring him from afar; with a sea of die-hard fans at his feet lapping up every moment. The hall was wall to wall, rammed to capacity and the heat of the floor dwellers rose to the balcony seats, getting more and more hot and sweaty as the night progressed.
Kicking off the night, Mac played material from his new 2017 album
This Old Dog
with On The Level which waved its way out of the speakers, lulling the crowd into a poppy psychedelic trance. The classic
Salad Days
ensued, followed by No Other Heart and For the First Time. Upbeat, up-tempo track The Stars Keep On Calling My Name got the place dancing again and then DeMarco was back to his new tracks like This Old Dog.
After that, this is where things went a bit off schedule, the crowd started chanting 'Oh Jeremy Corbyn' to the White Stripes' Seven Nation Army, to which Mac and the band started playing along too and everyone was either laughing, scratching their heads wondering what was happening or started chanting along themselves. Either way, a funny little spontaneous moment had developed and then it was back to business with feel-good tunes like Cooking Up Something Good, My Old Man, Ode To Viceroy, Rock and Roll Nightclub, My Kind of Woman, Chamber of Reflection and Still Together.
Now, if you didn't already know, Mac DeMarco is known for playing covers at his shows and didn't disappoint by playing an eclectic set list including the Red Hot Chili Peppers' Under The Bridge, Van Halen's Runnin' With The Devil, 50 Cent's In Da Club and Liverpool home staples like There She Goes by The La's and the Beatles' Get Back and Dig A Pony.
An encore of Watching Him Fade Away ended the spell and the rollercoaster ride of a show finished on a high with no one wanting to come back down. The party atmosphere Mac DeMarco and Co had cooked up still felt in full swing, the thought of leaving and going home so soon feeling too early and many continued the good vibes late into the night. Mac DeMarco didn't disappoint his fans in Liverpool and everyone left even more impressed and enamoured by his catchy and poppy, yet edgy enough songs to satisfy many a music critic.