M83 @ Concorde 2, Brighton 22.01.12
French outfit M83 are really on the march at the moment. Current single 'Midnight' already boasts an Eric Prydz remix and has recently featured as one of Zane Lowe's 'Hottest Records'. With a world tour selling out fast and an ever growing live reputation, there is quite an atmosphere inside Brighton's Concorde 2 tonight as a capacity crowd eagerly await their arrival.
Jan 22nd, 2012 at Concorde 2, Brighton / By
Richard Guy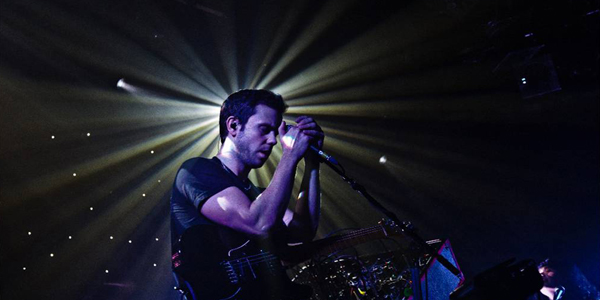 A far cry from his earlier days amongst the realms of the shoe gazers,
M83
leader Anthony Gonzalez tonight appears absolutely in his element delivering a watertight set of uplifting electro pop that draws heavily from latest album
Hurry Up, We're Dreaming
. Arriving to a beautifully decorated stage and accompanied by a slick and well rehearsed band, the variety of styles in the song writing easily translate into a tangible live energy which is as exciting as it is surprising.
Sitting somewhere in between MGMT and Mogwai, the music manages to move seamlessly from pounding arpeggiated synth lines to huge guitar led soundscapes, and as it does so the dancing quickly changes to jaw dropped swaying, and back again. Vocally M83 are superb, with the quite magnificent Morgan Kibby's powerful soul style the perfect contrast to Gonzalez's more delicate delivery. Kibby is in fact something of a star in her own right, her keyboard parts provide a nice subtlety to some of the quieter moments, and her presence undoubtedly adds to the band's onstage energy.
Unusually the weakest point of the show comes with the arrival of the aforementioned single 'Midnight', and whilst the familiarity of its chorus is undeniably a crowd pleaser, it's rather obvious hook lacks substance when compared with the rest of the set. Aside from this M83 are hard to fault, they really do bring something for everyone and they deliver it with enthusiasm and finesse. Their live show is something of a master class from start to finish and they are undoubtedly firm favourites for huge success in 2012.