M83 @ Somerset House, London 16.07.12
In the grounds of the stately Somerset House that overlooks the London Thames, the huge grey rainclouds decided to give us a break from the incessant downpours so the crowd could enjoy M83's show on Monday 16th July.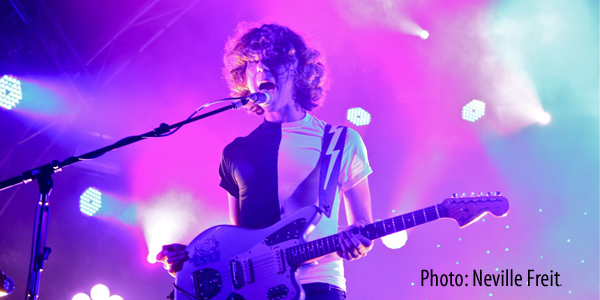 The venue's statues of grand figures, reminiscent of Neptune, Venus and cherubs adorn the imposing building, which wraps around its courtyard and the stage. It was a perfect backdrop for the band who have long reached cult-status. First up, supporting act,
Susanne Sundfør
, with her trademark thumping beats and moody songs set the tone for an unusual concert night.
Then
M83
made a theatrical entrance; an odd figure clad in a costume of the group's animal mascot, slowly edged towards the stage as if stepping out of a UFO from Messier 83 (the spiral galaxy the band is named after). Slowly lifting its arms up, the mascot shot laser beams from its fingers across the crowd, accompanied by an extravagant background light show in a myriad of colours.
This built up the anticipation of an epic set. Half-expecting the band to arrive in space pods or do some kind of paranormal tricks, once on stage they actually set the tone for a more down to earth performance, with a stage light show changing in psychedelic style for each tune.
The first few songs were fairly downtempo and it seemed that in the face of the band's love and deep absorption for what they do; the highly computerised ambient indie-electronica couldn't match the impact of its produced sound in a live set up; the only track the crowd really chanted along to was 'Reunion'.
Anthony Gonzalez took up the guitar for much of the set and was refreshingly affable and non hipsterish for a lead. His band, headbanging their 80s hair, bashed out the drum machines and keyboards as if they had hyperactive disco disorder. The drummer deserved an Olympic medal for his speedy endurance, and boy, do they all like to bash out those tambourines and cymbals.
While most of the songs seemed to blend into each other 'Midnight City' and 'Coleurs' were the stand out, high-octane tracks for the night. The distinctive 'Midnight City' dripped with euphoria, the saxophone player making an entry towards the end of the track, took it to phenomenal heights.
'Coleurs' was an extended version and started with teasing out the riff, which they artfully built up in a mesh of noise to a joyous climax. Though some parts of this concert seemed static, there was a majestic quality to the show's venue and a sense of beauty in the live set that was, in the end, a delightful treat for fans.
Words: Jameela Oberman Photo: Neville Freitas