Love Inks / Swimming / Hi-Fiction Science @ The Thekla, Bristol 21.09.11
A sparse crowd, upstairs aboard Bristol's own boat that rocks are treated to an eclectic display of 21st Century guitar based gamesmanship. Three bands, three different takes on the post-indie, post everything, traditional band setup.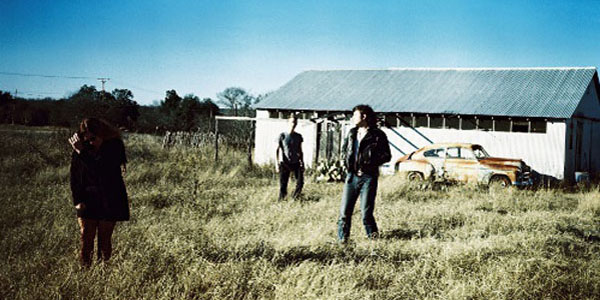 Hi-Fiction Science
offer up a taste of what folk rock might have been like if it had just been invented. At its core it is a progressive sound, James McKeown and Matt Rich layer psychedelic guitars, keys, and samples which ride the heady groove of an impressive rhythm section – Aidan Searle steering the ship with drums that can lean towards jazz or something more tribal at the flick of a wrist. Jeff Green plays bass inventively and rolls out moog like hooks on 'Undulating Blue' that places the music in every decade since the sixties at once. Soaring and meandering above all this though are wholesome folk melodies sung by Maria Charles. This contrast brings a necessary balance; it's a real head and heart thing. Give them a stage bigger than a postage stamp and these sonic adventurers could start ripping up the rulebook just like their spiritual forefathers…
The same sentiments could certainly be applied to the evening's next act, for young bands seemingly in the indie mould rarely come as inventive, likeable and so obviously talented as
Swimming
. Hailing from Nottingham, this is a quintet that should be getting everyone excited, from bedroom dwelling aficionados to radio station execs. Singer/guitarist John Sampson really holds his own against a backdrop of tirelessly creative beats and synth play, laid down by Pete Sampson and Andrew Wright respectively. All three have excellent voices that work together whatever the arrangement. They forge a sound that draws on eighties post-punk yet sounds contemporary due to their use of technology and willingness to experiment and adapt, it certainly owes something to the standard indie format, if there is such a thing, and may come partly by way of the rather dubious notion of new rave. In other words the overall effect is hard to pin down, which is no bad thing. It is nice to be kept guessing once in a while. Bassist Blake Pearson and guitarist Jonathon Spittlehouse only enhance things further, and it becomes an increasingly impressive feat that with such a tightly woven musical fabric the songs still come to the fore. This shows great professionalism as well as great writing. A band on the rise, a band of artists, we'd best call it art rock then.
There is however more than one way to skin a cat, so to speak, and opting for the less is more strategy are the equally captivating Texas band
Love Inks
. I interviewed them earlier in the month and was promised an 'emotive and calculated' set, and this is an accurate evaluation. It is striking however, just how much charm such a bare bones performance can deliver. Every single simple sound seems to have been honed to perfection from Kevin Dehan's flawless bass to the even subtler guitar of Adam Linnell. Even the drum machine shares this quality and neither man puts a foot wrong in their interplay with it and each other. Thus, it is left to singer Sherry LeBlanc to almost paint her words over this minimalist collage behind her, and she does so with the ease and grace that you might expect. 'In My Dreams' is an emotionally charged number; with a breathtaking stillness to it that conjures up images of filmic movement in the mind, such is its soundtrack like quality. 'Leather Glove' feels like it's been a summer's night staple for years. There are new songs too, hinting at subtle changes in the formula that may keep this band evolving in some sort of semi-secrecy before our eyes for hopefully years to come. This a very clever band indeed, they have successfully deconstructed an entire genre. Stripping everything back far enough to reveal a real truth to the music that matches the emotional truth of their songs, and not so far that any sense of melody or tone is lost. There is space enough to suck the listener in, and yet enough musical prowess on display to remain enthralled in that sense too.