Lounge on the Farm Festival 09-12.07.10
Lounge On the Farm festival takes place on a cow farm just outside the historic town of Canterbury. It has been going since 2006, and in the past has featured the likes of Fuck Buttons and The Coral. As one of the crop of new and lower key festivals which have tapped in the British public's inexhaustible appetite for summer music, it satisfies a whole range of punters with its pleasant selection of niche bands, quirky setting and organic food counters. The atmosphere is like a bohemian village fete, and the relatively small scale (there were about 4000 people attending) make it a very relaxing place to be.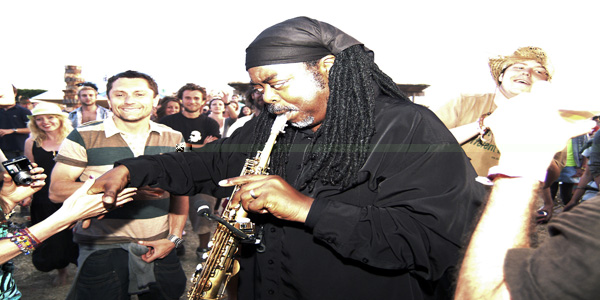 This year, the general joie de vivre was compounded by the appearances of
Quantic
,
Hercules and Love Affair
, legendary reggae outfit
Toots and The Maytals
and Phil Jupitus on the comedy stage. The line-up wasn't quite as strong as last year. No matter, stunning weather blessed the site with mud-free campsites and punters resembled sun baked and happy go lucky holiday makers.
And so it was against the backdrop of idyllic Kentish fields that Bearded arrived, late on Friday night, after dismally failing to avoid the rush hour traffic. We pitched our tent in darkness, and to the distant sounds of a party that had started without us. We had missed some excellent artists, and would have to play major catch up – but we shall come to this later.
On Saturday morning Bearded decided to first check out the delights of the Further stage. After wondering around on Friday night, the Further area had quickly become our favourite. It was charmingly psychedelic, complete with a tent showing trippy films, and shaded areas where punters could chill. French rockers
Le Duc
were surely the highlights of Saturday's showing, impressing the sunbathing crowd with tempestuous and tripped out guitars, at once modern and retro. Another Saturday highlight was Swedish sister act
First Aid Kit
, who's sweet harmonies were perfect for a barmy Saturday afternoon spent in The Sheepdip tent.
Those bands aside, Bearded thought Saturday's line up was weak in comparison to Friday's and Sunday's. Festival goers who didn't take the day of work on Friday missed a brilliant showing, which included
Tunng
,
Quantic
,
Erland and Carnival
,
DJ Yoda
and Hospital Record's
Cyantific
. It was a shame that these artists weren't more evenly spread.
And so with chronic predictability, Bearded began the Sunday at the Further Stage, where hotly tipped
Elan Tamara
impressed with a superb brand of alt-pop, consolidated by her superb voice. Then it was on to Farm Folk where
Rose Elinor Dougal
rocked the "quiet" tent.
The grounds were full of every festival goer you could think of, from teenage campers, to families and aged hippies. The opportunity to wander between stages and sample sets with ease was welcome, and the agriculturally themed stage names – The Cowshed, Sheepdip and Farm Folk – was a nice touch.
This was also the perfect festival for jazz and nu-jazz fans. The Leaf's
Polar Bear
, Portuguese influenced
Stolen Project
and
Courtney Pine
were just some of the highlights on the Further stage, and all impressed with rambunctious, sublimely executed sets. Sheepdip satisfied others tastes, playing host to an eclectic mix, including the shoegazey dreampop of
Toro Y Moi
and the much hyped all girl choir,
Gaggle
, currently signed to Trangressive.
Oddly, Further was the only outdoor stage, and harboured the feel of a main festival venue, until the evening, when crowds herded over to The Cowshed for the headline acts. Now... admittedly, transforming a working cowshed into a music stage seems like a great idea. Unfortunately, in practice it really isn't. The acoustics were terrible - everything sounded washed out and weak - and the position of the shed was right on the farm perimeter, away from the main buzz of the festival.
Toots and The Maytals
raised the place to the roof on Sunday night. Yet wondering casually into The Cow Shed on Saturday afternoon, Bearded couldn't help but feel sorry for
Chief
(Domino Records), who played their (unfortunately bland) take on American rock to what felt like an empty hall. Festival main stages should be outdoors, and resemble the nucleus of a festival. That way people will hang around and help create an atmosphere.
But the main criticism amongst the punters I asked concerned Beer! Or the lack of it at least. For licensing reasons punters weren't allowed to take crates of beer onto the campsite. Fine, so long as slabs could be bought once on site – as promised on the festival website. Once on the farm however, staff could only recommend a mythical man and a van who they said had appeared on Friday, only to promptly sell out. He didn't reappear.
Glitches aside, this was a charming festival and generally well organised. It is quite good value as well – £95 for a weekend camping ticket is half the price of some festivals – and nearly twice as much fun as others.