Local Natives @ O2 Academy, London 17.10.13
Los Angeles band continue their ascent live in London
Oct 17th, 2013 at O2 Academy, London / By
Adam Bunn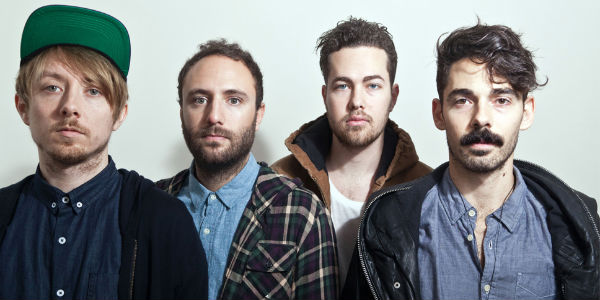 Local Natives'
triumphant return to London's comes off the back of a successful year for the Silver Lake band. Their previous London data was at the 1,000-capacity Scala; the leap to the 5,000-capacity Brixton Academy is surely a reflection of a band rapidly in the ascendancy.
Opener
Big Deal's
set does a good job of introducing their recent
June Gloom
album of slightly-scuzzy dream-pop to the early arrivers. Reflecting the album's much punchier sound compared to their low-key debut, the duo are beefed up into a four-piece for their live show, giving the album tracks a crunchy, Veronica Falls-like fuzz. Whilst some of the tracks drift towards anonymity, both 'Swapping Spit' and 'Dream Machines' are impressive, and a thrashy version of the first album highlight 'Talk' rounds off a short set positively.
Main support act
Cloud Control
share a lot in common with Local Natives aside from a record label, with rich harmonies, impressively tight musicianship and a deft knack in taking what should be simple three-minute guitar-pop songs into an altogether more interesting direction. The Yeasayer-esque opener 'Scream Rave' and 'Dojo Rising' both stand out.
For a band clearly with a loyal following - if not outright chart success in the UK (yet) -
Local Natives
fill the cavernous Academy with ease. Their set flits easily between songs from their two albums to date, although generally it remains tracks from debut album
Gorilla Manor
that receive the warmest welcome. The three opening tracks to the set — second album
Hummingbird's
lead cut 'Breakers', plus 'World News' and the soaring 'Wide Eyes' from their debut — are as finer trio of set openers as you will hear all year.
The set feels slightly front-loaded with the 'hits', and sags a little in the middle with many of
Hummingbird's
lesser-known tracks getting airings: these songs are far more reserved in their character (the album's lyrical content inspired by personal loss and relationship breakdowns) but they nevertheless also impress and are warmly received, an extended version of the emotive 'Mt. Washington', and a particularly devastating 'You & I' both being particular highlights. Indeed, many of 'Hummingbird's' new tracks feel looser and freer, casting aside some of the emotional intensity of the album.
It's the encore however where things where things go a little ballistic, as for 'Sun Hands', the band totally unhinge themselves, light bulbs from the rig begin to frantically swing, and frontman Taylor Rice launches himself into the crowd. After an energetic, if polite, show, it's an intense and almost surprising end. The set overall is little short of a triumph though: the sound is huge, and
Local Natives
seem confident the next step for them is bigger venues still.