Light of Day 2012, New Jersey, USA 12 – 16.01.12
David Brown travelled to Asbury Park, New Jersey to take part in the ever-growing music-led movement to help fund a cure for Parkinson's Disease.
Jan 12th, 2012 at Various, New Jersey, USA / By
David Brown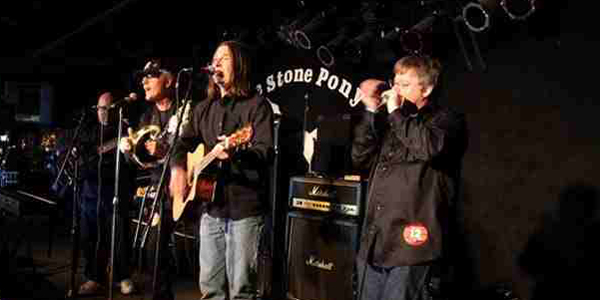 In 1996 well-respected US music manager Bob Benjamin was diagnosed with Parkinson's and for his 40th birthday two years later friends organised a fund raiser towards research into the disease. From this grew the first
Light of Day
concert in 2000, named after a Bruce Springsteen song, to raise money for an awareness of Parkinson's Disease.
This year saw the twelth Light of Day series of concerts being held in Asbury Park, New Jersey, which has grown from a single event to several days of gigs, and there are now also LoD concerts held elsewhere in North America, Europe plus the UK and it looks set to grow further.
On Wednesday 11 January, a tribute concert to saxophonist Clarence Clemons, who died last year, was held at The Canal Room, New York, the day before the series of musical events got under way at Asbury Park itself.
For many, much of the emphasis of the musical interest revolves around the participation of Bruce Springsteen, who put the Atlantic coast seaside resort on the map with his first album 'Greetings From Asbury Park, NJ' back in 1973. So far, he has appeared some nine out of 12 years and certainly no one could complain about his contribution to the main concert held at the Paramount Theatre on Saturday night, 14 January, when he appeared as a guest with Garland Jeffreys and Willie Nile, had a solo acoustic spot and got involved in an enthusiastic band set with Joe Grushecky & The Houserockers, then led the mass finale. It has to be said that seeing Bruce play in his home town at a 1,600 seater hall is an improvement over watching him on a screen in Hyde Park!
There is, however, much more to this event with a number of musical gatherings held at various venues throughout Asbury Park over the extended weekend with a vast number of musicians, amateur and professional, local and from elsewhere in the US and Europe. More than 100 musicians took part in 2012 with events held at 16 venues.
A great place to start and get a feel for the musical tradition and great atmosphere of the area was the First Annual Light of Day Bowl-athon held at Asbury Lanes on the Thursday night, where bands played on a stage set up between the bowling lanes presenting an unlikely mix of activities! Featured bands were
the Naturals, Maybe Pete
and
Outside The Box
.
Willie Nile
took time off bowling to join Joe D'Urso (who has been involved in the development of Light of Day from the beginning) & Stone Caravan, while Robert Gordon and band brought the evening to a rocking conclusion. Regular DJ at the Lanes, Jack the Ripper, played some suitable 7" vinyl between the bands.
The spotlight the following evening was at the legendary Stone Pony club at 913 Ocean Avenue, with a concert 'Honouring The Asbury Angels'. This featured a wealth of talent including
Tara Elliot and the Red Velvets, Pat 'the Soul Cat' Toner, Jo Bonnano and the Godsons of Soul, Sonny Kenn, JT Bowen
and
The Sensational Soul Cruisers
. There was a wonderful second generation involvement including
Nick Clemons
(son of Clarence) with his band and
Jason Heath and the Greedy Souls
featuring Jason Federici (son of Danny Federici). The latter's set included a moving version of Springsteen's '4th of July, Asbury Park' (Sandy)' with Jason playing the accordion as had his father on the original. Madam Marie's fortune-telling booth, as memorably mentioned in the song, is still just a walk away on the Boardwalk.
Changeover between the acts on the main stage was impressively efficient with more music on the adjacent acoustic stage to fill the gaps.
The Upstage Jam Band
featured the E Street Band's bassist Garry Tallent as guest and there was some healthy interaction between musicians into the early hours when
Boccigalupe & the Badboys
brought it to a close with a rousing 'Rosalita (Come Out Tonight)'.
There was yet more action at The Stone Pony the following afternoon, though Steel Mill were unable to perform as drummer Vini Lopez had been involved in a car crash and had a bandaged hand, but he was able to join in on vocals and shake a tambourine with his good hand with performers including Pat Guadagno and the Candle Brothers plus Stormin' Norman Seldin with Pam McCoy. While
Blackberry Blues Band
traded 12 bars at The Stone Pony, there were further excursions into blues down at The Wonderbar, with bands including those led by Billy Hector and Billy Walton. The latter is doing UK dates in May 2012.
That evening it was the aforementioned big concert at the Paramount Theatre, which kicked off about 6.30pm and came to a close after 2am on Sunday morning with a non-stop diet of great music including
David Bromberg, Linda Chorney, Joe Eddie, Isreal Nash Gripka, James Maddock
and many more. Southside Johnny has been a kingpin of the area's music scene with The Asbury Jukes, but on this occasion he was introducing his new project to Asbury Park,
The Poor Fools
, which includes Soozie Tyrell and Jeff Kazee in the line-up. Southside looked comfortable enough playing acoustic guitar as they presented some down-home versions of material from favourites such as NRBQ and three fresh interpretations of classic Jukes' songs. He also showed he had not abandoned the blues harp. Willie Nile certainly impressed with a great selection of his songs, but made room for an impassioned tribute to The Ramones.
After the excesses of Saturday night, Sunday afternoon was understandably a more laid-back affair with thoughtful Songwriters By The Sea sessions presented at the Watermark bar including
Emily Grove, Lisa Bianco, Jorgen
and
Jessica Johansson
, against a background of the Atlantic Ocean. The music then moved just down the street to the Langosta Lounge for more melodies from the likes of
The Sunday Blues, Lisa Bouchelle
and
Joe Harvard
.
The acoustic sessions continued that evening at Tim McLoone's Supper Club with singers including
Joe D'Urso, James Maddock, Quincy Mumford, Stewart Franke, Jess Klein, Joe Rapolla, Linda Chorney, Joe Eddie, Joe Grushecky
and others. As the evening of laid-back gems drew to a close, a lady produced a saxophone and the music stepped up a notch as ensemble versions of Steve Van Zandt's 'I Don't Want To Go Home' (an early classic for Southside Johnny) and Springsteen's 'Spirit In the Night' got everyone singing along.
The next morning over brunch it was announced that the money raised by Light of Day 2012 events was in excess of 250,000 dollars so far. The European, UK and Canadian Light of Day concerts will be held later in the year. Anyone interested in joining an organised package trip to future Light of Day events in the US can find out more from Badlands, the Cheltenham-based independent record store and concert tour specialists (website:
http://www.badlands.co.uk
)