Laura Veirs @ Queen Elizabeth Hall, London 30.01.12
"My tour goal is to open my heart to the world," cried Laura Veirs, arms outstretched atop the stage of London's Queen Elizabeth Hall on Monday night. It was the kind of saccharine chatter that made frequent appearances throughout the evening; charmingly mocking and yet at the heart of it almost certainly genuine, and it suited the pig tailed and bespectacled Oregon girl next-door down to a tee. Undoubtedly it is this geekish quality which makes her so endearing to her fans; a surprisingly male weighted audience, and even more so with a childlike nervous energy ("You think I'd not be so nervous after doing this for ten years'" she chirps midset) it was unsurprising to find her releasing a recording of children's folk songs in November of last year.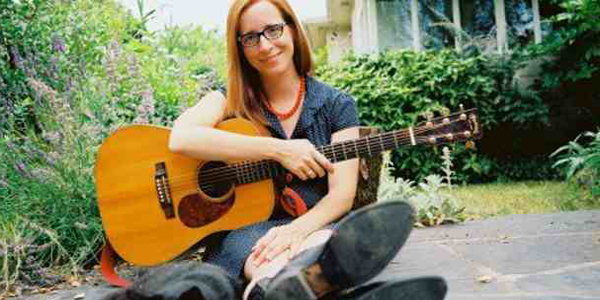 With artists such as Jim James and Colin Meloy featuring, and Sufjan Stevens singing its praises, it was with mild disappointment that more of these interactive numbers didn't feature in her 80 minute set. These songs in particular, with their simplicity of wording and infectious instrumental flesh served to express the beauty of
Laura Veirs'
delicately descriptive Americana. 'The Fox' was delightfully buoyant of vocal and toetapping in beat and yet in spite of this, didn't lend itself well to a seated venue, a more sawdust and spit affair would have retained a less distanced relationship between musician and listener. Accompanied onstage by guitarist Tim Young, whose exceptional rootsy picking on 'Jailhouse Fire' momentarily turned the maudlin tempo of proceedings up a notch, and Alex Guy, flitting between violin, viola and keys, there was all the talent on the spacious stage at Southbank, yet at times it was a lethargic performance, something which could perhaps have been overcome having attended a kids show, at which Veirs promised a bubble machine and kids running amock in a mini moshpit. As it was the show moved through songs often overlooked on record, the standouts containing captivating instrumental interludes, Guy's lilting looping of strings and often delicate harmonies which wrapped around these, momentarily rearranging and revising the lesser favoured of Veirs' extensive back-catalogue.
With a voice as a main selling point; colloquial and conversational Veirs does nothing to dress it up; her cover of Neil Young's 'Unknown Legend' working for just that. And in retaining a bright eyed curiosity behind the tales it tells this was why
Tumble Bee's
folk collection succeeded. Relegated to older tracks however, her personal favourite 'Spelunking' or 'I Can See Your Tracks', there was a dragging of feet and a desperate need for change bubbling underneath. The only wish was that Veirs and her cohorts let us embrace our inner child for one night and throw in some more of the promise
Tumble Bee
exhibited.