Laura Veirs @ Komedia, Brighton 11.11.13
Laura Veirs, a veteran of the Portland folk scene rolled into Brighton in support of her recently released ninth album; Warp and Weft.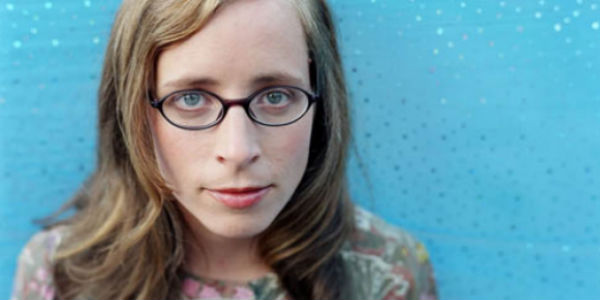 Veirs career initially drew the predictable Joni Mitchell comparisons with her intimate confessional songwriting style but there has always been something uniquely dreamy about her style. Early records like
Carbon Glaciers
were characterised by whimsical folky arrangements and a lyrical obsession with nature that may or may not be explained by her geology degree. With a sound and look that could be described as being like Aimee Mann's geekier librarian sister it is with some surprise that her recent motherhood has, counter intuitively, instilled a spikiness and political anger that had been previously absent from her work. It is this more direct and angry style that characterised her performance in Brighton with much of the set list consisting of
Warp and Weft's
more strident songs.
Opening with 'Sun Song', Veirs and her band instantly energised the typically Brighton crowd of hemp strewn beards and floral dress with an unexpectedly punky attack. The minimalist band of drums, bass and guitar is electrified by Alex Guy's wild violin and backing vocals that make for a raucous counterpoint to Veirs more reserved style. This more aggressive style is best exemplified by new song 'America', a protest song in the best tradition, which rails against America's insane attitude towards guns. The anger and defiance of such songs are charmingly balanced by Veirs self-mockingly mumsy stage persona which sat well with the venue's intimate atmosphere.
More long term fans would have been delighted with the spine tingling solo performance of the whimsical ballad 'Spelunking', one of the highlights of her critically acclaimed album
Year of Meteors
. However, much of the material was new which whilst leaving some fans yearning for her classic songs clearly imbued the band with energy and enthusiasm that was as infectious as it was surprising. Her sometimes pedestrian and polite recordings were electrified by anarchic violin and Veirs own Neil Young-esque guitar which chugged and screamed in total contrast to the elegance of her recordings.
The band reached a thrilling crescendo with an encore of another new song which is surely set to become a live staple. 'That Alice', a tribute to the jazz harpist Alice Coltrane, plays like a hipster feminist rewrite of Don Maclean's 'American Pie' with its soaring chorus of; 'That Alice, made a palace for our ears'. A catchy, rocking anthem that had Brighton's cardigan clad folkies up on their feet.
Veirs admiration for Alice Coltrane, whose music ushered the band on and off stage, is symbolic of the more avant-garde and confrontational essence that has always bubbled under in her work. Her new record and this touring band have given full expression to these tendencies and made for what could be seen as a mid-career renaissance. On the whole this was a surprisingly exciting and interesting performance from one of America's more subtle and inspired songwriters.