Laura Jurd @ The Verdict, Brighton 18.11.16
Venerated UK jazz outfit dazzle a sold out Brighton audience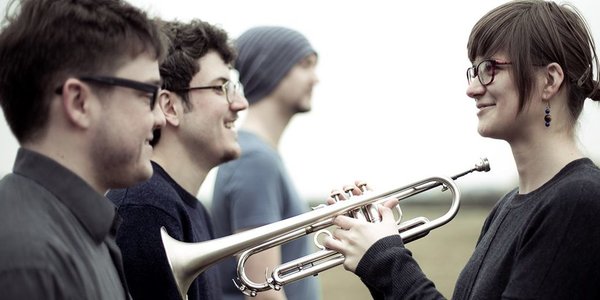 'Awakening' opens Laura Jurd's set at this tiny Brighton basement venue as magnificently as it opens her justly acclaimed third album
Together, As One
– a shimmering shifting slice of seductive electric jazz moodiness that takes as its springboard peerless forerunners like Miles Davis'
Bitches Brew
or
In A Silent Way
.
Having played with an impressively diverse roster of collaborators over the past few years, Jurd – swapping between trumpet and synth - appears here with her youthful new Dinosaur combo: a sublime Elliot Galvin on fender rhodes and hammond organ, Conor Chaplin on electric bass and Corrie Dick on drums.
The effortless fusion of styles and dazzling musicianship on display explains why Dinosaur have already had the 'new British jazz supergroup' tag slapped on them by eager critics, though Jurd is low-key personified as she blasts through a brilliant split set on a stage about the size of a couple of sofas.
Apart from an early foray back to her 2012 debut album
Landing Ground with Happy Sad Song
, the set revolves around a free-flowing exploration of
Together, As One
that lifts even the weaker tracks on the album – such as the brassy 70s strut of 'Robin' – to a higher level.
The brilliant fluidity of the band is awesome. 'Living Breathing', for example, fuses slow sexy lope with 80s spacey jazz rock – plus a brilliant keyboard solo by Galvin that my knowledgeable mate Chris assures me nods to the Rhodes sound of Dave Lawson from 70s proggers Greenslade.
While bass and drums do their duty throughout, it's Galvin and Jurd who lead everything, swapping phrases and solos as if trying to outdo each other for brilliance. There's a fantastic Jurd trumpet solo on 'Extinct', brilliantly inventive keys on 'Primordial' and the closing 'Interlude', where Jurd adds a synth underlay to Galvin's efforts on a track that glories in spooky breathtaking asymmetry.
With the crowd roaring for more, a humble Jurd brings the band back on stage to do "something we've never played before – called Encore", before delivering a short but satisfying blast of Weather Report-influenced improvisation that sends us home happy.
Be sure to catch Dinosaur on the remaining leg of their UK tour until late January – details
here