Lambchop @ The Barbican, London 01.03.12
With songs of love and life, loss and death, Lambchop were briefly back in town. Highlighting the material from their recently released Mr. M album, London's Barbican provided the perfect setting for a listening audience hanging on every note and word.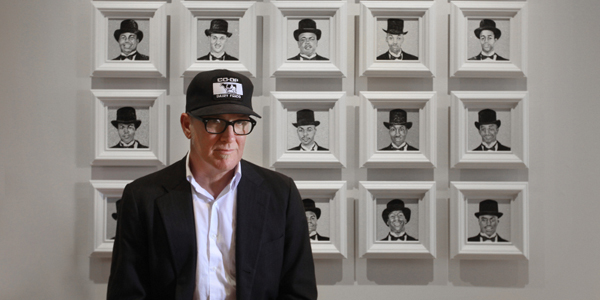 We had already met most of the ensemble in the opening set fronted by Cortney Tidwell, who commented on how quiet it was out there, but this was a reflection of reverence and mutual enjoyment as the mellow musical evening progressed.
In the second half of the entertainment, singer/songwriter and guitarist
Kurt Wagner
strolled on with his fellow musicians, wearing his trademark baseball cap and waving to the crowd before making himself at home in his corner of the stage with his side to most of the audience and his back to other parts of it. Initially he went from song to song, casting aside lyric sheets as he went, before teasing us by turning towards the audience and looking as though he was about to communicate, then smiled and carried on. Later he did ask if it was okay to talk and indulged in some reflective insight and self-mocking humour, with pianist Tony Crow as his accomplice. "I've just realised something, this song sounds just like all the other songs!" and "If you've seen one
Lambchop
show, you've seen a thousand!" being typical lines.
Such revelations provide some light-hearted breaks to a set of songs that were very melancholic being written following the death of his close friend and sometime musical collaborator, Vic Chesnutt. The songs were all taken at talking pace with Wagner's vocals very clear and precise with equally concise, thoughtful musical accompaniment to embellish them.
Much of the material on the
Mr. M
album is bathed in strings, but these were not really missed here as the current line-up (more of a cutlet than some of the earlier, much larger Lambchop cooperatives) make the most of each opportunity to tastefully provide just the right amount of sound for just the right time, no real solos as such but wonderful mood-right ensemble accompaniment.
Some great storytelling is told in the present set of songs bringing to life characters and everyday happenings in minute detail that you just can't imagine other musicians attempting. When Kurt Wagner sings "The good life is wasted on me" you go along with it even though you are at the time enjoying a slice of good life with him.
Aside from the recent songs and soulful instrumentals, there was just the occasional look back to material such as 'My Blue Wave' and the final encore goes to Bob Dylan's 'I Threw It All Away' aptly from 'Nashville Skyline', presented in Wagner's inevitable own style and delivery.
Wagner has stated that he felt there was one more good record in Lambchop, but just as the audience was in no hurry to let the band leave the stage, this level of musical intimacy and shared involvement seems too good to lose. Kurt Wagner, of course, just wanted to get outside and smoke some cigarettes!