King Creosote & Jon Hopkins @ Queen Elizabeth Hall, London 09.09.11
King Creosote didn't quite appear as one dressed to play the Southbank Centre's Queen Elizabeth Hall, or in fact even expect to be performing there at all: "Always nice to have some guys who didn't win the Mercury Prize on stage" he joked dressed in checkered shirt, baggy jeans with ruffled brown hair. It was of course his collaborative EP Diamond Mine, recorded alongside electronic/contemporary classical musician and producer Jon Hopkins, which captured the atmosphere of a Scottish fishing town and found itself an almost unexpected nominee but never an undeserving one, with the project being mulled over from fruition to completion over a period of some six years.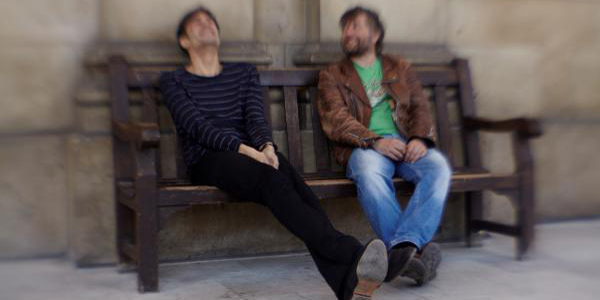 Brought to the stark silence of a London concert hall whose acoustics rendered the possibility of a thousand pin-drops being heard; Creosote aka Kenny Anderson and Hopkins set about performing their heralded 32-minute Anstruther, Fife inspired audio postcard with thoughtful, unobtrustive flourishings of minimal electronica and glistening piano chords. Executed with almost no interruptions and in its entirety, Anderson took centre stage switching from guitar to accordion, while Hopkins to his left was tucked behind grand piano, harmonium and multiple electronic gadgets, his shifting figure producing much of the mesmerising touches of the evening, as pulsing beats and sampled sounds of bird calls, waves, the great outdoors interwove with Creosote's traditional style. In addition, the exquisite detailing and subtle colouring of the pastrol palate was furthered by drummer, viola, violinist and vocals from Lisa Elle, who likewise features on the recording. While acoustics aside it was at times the almost pitch darkness of the hall and its deep, sombre lighting that submerged you within a dark chasm of sea as the recordings of breaking waves hushed and crackled from Hopkins music box. In these moments of captivation the crowd was left too stunned; unsure whether to interrupt the quieting interludes with applauds or to keep silent and not break the magic. The only visuals which remained more captivating were the hints of satisfaction on King Creosote's face as he watched his supporting musicians illustrate his hometown inspired musings, before continuing on with gently finger plucked guitar and plaintive vocals.
In a set of two halves; the latter was differentiated more so by Anderson's lighthearted, almost stand-up comedic banter ("How did you get here this evening" he asked of one girl from the front few rows), while musically it plucked crowd favourites from Creosote's 40-odd recordings: 'Spystick', 'Homeboy' and Hopkins' favourite 'Cockle Shell' before an end of set cover of an HMS Ginafore track which Creosote confessed to potentially being "a bit weird. It's meant to be about me!" A new song taken from the as yet unreleased EP
Honest Words
[out on 19th September] was given its debut outing and further proved the duo's formula is not merely a one trick pony. In succeeding in simplicity of form alone their stark differences amalgamate purely on record and in performance, working to create something understatedly refreshing and humbled time and again. For further assurance that they were doing the right thing you only had to witness the thumbs up Creosote exchanged to Hopkins as they left the stage.