Kathryn Williams @ The Huntingdon Hall, Worcester 28.09.13
The church setting of the elegant Huntingdon Hall is the perfect venue for Kathryn Williams. She addresses us as her "small but perfectly formed audience" with a charming awkwardness before launching into the opening song. Her voice is pure, honest and deliciously soft; there is an openness to her that is almost childlike. She is joined onstage by Jon Thorne on double bass, David Page on guitar and vocals and Alex Cornish who plays violin, keyboard and provides backing vocals. She is blessed indeed with these musicians who effortlessly fuse technical brilliance and emotive heartfelt playing.
Sep 28th, 2013 at The Huntingdon Hall, Worcester / By
Holly Daffurn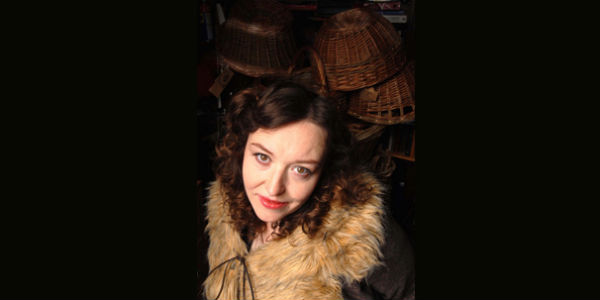 The sound is perfect, emphasised by the beautiful natural reverb in the antiquate building and lovingly mastered by Stu Hunt of Insert Audio Ltd. There is real warmth, clarity and balance to the sound.
Kathryn Williams
has a gift for soothingly lilting tunes and reassuring relaxed vocals. She offers old favourites and precious gems from her brand new album
Crown Electric
. I'm particularly taken with a song about Elvis with beautifully sexy stalking bass prowling against Kathryn's sultry soft vocals, which is accompanied by elegant synth peals. There is a macabre backbone to the sound that contrasts exquisitely with the sweetness of earlier songs. It is with these darker more discordant tunes that I really appreciate the talents of Williams.
With songs addressing subject matters from having a panic attack at King's Cross Station and lying on the floor as people pass above her, to a heart-renderingly beautiful piece written from the perspective of Joan from Sylvia Plath's
The Bell Jar
. We are the first privileged audience to hear that particular song, that is just two days old and was written in a Travel Lodge. It's hauntingly beautiful and raw with humanity, it is a rare gift of a performance and Kathryn William's honest frailty shines at the core of it.
There is nothing pretentious or inaccessible about the songs, the musicians or Kathryn herself. You know that the girl she is, the voice she has, the songs that she weaves, the
way she plays guitar and the lyrics she tells are all truthful expressions of who she is. She isn't trying to be anyone else. You feel like she has let you in to the inner soundtrack that accompanies her life, and it is so welcoming.
Her nervous smile flickers coyly, her hair is the same burnished red tone as the double bass that is so deliciously played, she rambles out personal anecdotes between songs that add to her charm. She is softly spoken, polite and irrepressibly sweet.
Jon Thorne deserves a particular mention, he executes delicious slides, throbbing penetrate runs and sways in an awkward slow dance against the cumbersome instrument as his fingers grace the neck with fluidity and mercurial proficiency.
The second guitar as played by David Page is beautifully percussive and rhythmic and his voice curls snugly around Kathryn's. On 'Come With Me' his voice is enchantingly beautiful and mesmerising, with haunting unearthly tones.
Alex Cornish's yearning soulful voice compliments Kathryn's perfectly, the precision in his violin style and his ability to support each songs with just what it needs shows beautiful restraint.
Towards the end of her second set, Kathryn brings out a huskier more soulful vocal than surprises me. She finishes with 'Gray Goes' a dramatically song full of dynamics, life and vitality. She concludes the piece by looping her own vocals, the power in her voice really comes out and it is at this moment that we understand the true versatility of this artist.
They conclude the night with a fabulous cover of Bruce Springsteen's 'Dancing In The Dark' she explains how she can really relate to it, after a decade in the industry moving from label to label, to her own label, to an indie label. Playing music in the age of Spotify and digital. It reflects what she feels right now. This song proves again what an incredible bunch of musicians she is surrounded by, and how she has the ability to sing her soul out. Unleashing the true power of her voice in the last few numbers is a wonderful device that means each song is treated differently, is unique and vital.