Josephine Foster @ The Cube, Bristol 03.11.12
In Spanish, the word 'duende' – literally a fairy or goblin-like creature – is used to describe the alchemical feeling when all is aligned in great art or great performance, the human spirit is lifted, and the emotions are intensified accordingly. It is an elusive thing, one that is as hard to explain, as it is to capture. Some musicians spend their lives searching for it. Some are plagued by it. Tonight's magnificent showcase proves its existence to all with the capacity for it; the sense of self, or the collective conscious, or however it is recognised/felt/revealed . . .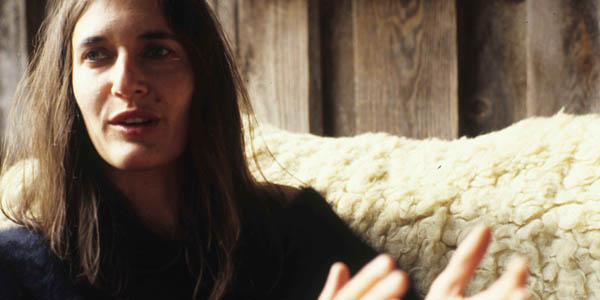 Victor Herrero
knows more than most on the subject, and not just because he's a Spaniard. He's also Josephine Foster's husband, and a member of her band, just as she plays and records with his band, back in Spain. Herrero is a very special guitar player, and a softly spoken solo performer with a deadpan humour that breaks the ice once or twice, before the sunshine of his music melts all your troubles away. I can feel
El duende
creeping up my spine, and it's no acid flashback.
Paz Lenchantin
, in the first of three shifts, uses her position as one of the world's most respected bass players to explore her personal love of performance by deconstructing and then reconstructing The Velvet Underground's 'Venus in Furs'. A solitary bass loop is smothered with layers of distorted violin, the vocals border on primal, and once or twice the layers build castles on the island; it never stops being true to the original, in spirit and aesthetics, despite its location half a world away. She leaves; an unanswered question.
Dan Haywood's New Hawks
is the name given to the thirty-two strong collection of songs that make up Haywood and his lengthily assembled band's triple album. The current touring line-up shares the name, and the whole project is reaching the end of a predetermined lifespan that renders it instantly mythical and precious. Haywood is a songwriter par excellence; his lyrical observations of his time spent amongst the nature and peoples of Caithness and Sutherland are poetic, evocative, highly crafted and yet meant to be. As a performer, Haywood is quirky, charismatic, and chock-full of confidence in his own abilities. The songs run from unashamedly jarring blends of folk and country blues through smooth-as-silk epics to fractured love poems aimed within and without, at the heart of humankind and the unresolved relationship of nature vs. culture. The presence of Mikey Kenney on fiddle is the catalyst for legendary interplay; Haywood calls him "The greatest fiddle player in England," and he certainly has all the attributes. Haywood himself intuitively works his smart acoustic guitar patterns through the mix of heady fiddle playing, softly resonating Dobro and drums, and sparse and effective keys, and when Lenchantin joins the group on bass for 'Eagles of Black Sutherland' magic things begin to happen. Oh, and to clear up the confusion girls, no, he's not singing "out of key", that's what's known as a regional accent.
Lenchantin and Herrero are back next, along with drummer Alex Neilson (The Trembling Bells) to accompany the Colorado born singer-songwriter
Josephine Foster
. Her simple folk songs draw on her love of rhyme and quiet spiritualism that when married to her vocal ability creates melodic raptures, odes to the elemental nature of music and the world. The band extend this further, adding a weight and spark that can't be captured; there's a freedom of expression that comes just as much from chasing
El duende
, as it comes from all the hours of technical rehearsal. The return of Kenney's fiddle is a gift shared by audience and performers alike, but the gifts keep coming. Foster's voice will divide opinion, but it remains a note-perfect tool, and her own unique delivery system. Admittedly, when she shifts from out of her high register on the more guttural 'Geyser', it's an exhilarating moment, as if we've spent long enough flying close to the sun, or diving underwater, and we return to earth with an electric eagerness. Lenchantin, whose own voice anchors Foster's, comes into her own musically at such moments, as it plays to her sensibilities, though all the players are faultless throughout; an elemental choir, Herrero an intrepid explorer. Perhaps
duende
comes from time spent with the earth. Music releases something within us that comes and goes, its own elusiveness adding to the magic, keeping us coming back for more, keeping us breathing.