Johnny Foreigner @ the Borderline, London 30.03.14
Midlands indie quartet prove hugely impressive live in The Smoke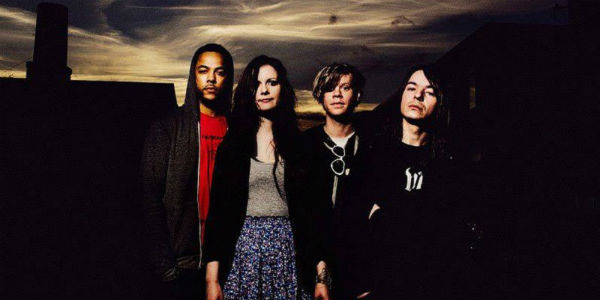 The mark of a great live band is its ability to seduce showgoers every time they perform, regardless of how many times newcomers or fans have seen them.
Johnny Foreigner
is, by this definition, one of the best. Headlining at the Borderline in London with support from
Uncle Luc, Midfield Workhouse
and
Radstewart
, the Alcopop! darlings captivate the packed venue with the personality and punch that has become characteristic of their performances.
Joined onstage by visual keytarist (yes, this is apparently a thing) Ben Rausch, the group caters to fans of old and new albums alike. After starting off strong with songs off their latest release,
You Can Do Better
, like the favorite 'Le Sigh', the band invites the audience to vote which classic they would get to hear next. The vote turns into a rock-paper-scissor battle, and much to the audience's pleasure, 'Salt, Peppa and Spinderella' prevails.
The band are gripping to watch. Singer and guitarist Alexei Berrow quickly works up a Cool Hand Luke-worthy sweat, somehow managing not to slide off his guitar as he quickly and furiously pounds across the frets. Guitarist and recent addition (at least, officially; he has played with them for some time before) Lewes Herriot is somewhat more measured but certainly no less talented or ferocious. Kelly Southern, bassist, singer and proud Daniel Bryan enthusiast, provides a strong backbone with her solid and often bewitching basslines. The line to 'Riff Glitchards' in particular - more on the performance of this song later - is, while technically simple, especially enrapturing.
Throughout the show, Southern and Berrow's vocals play off each other beautifully, which only makes it sadder that they couldn't quite be heard over the din in certain areas of the venue. In front of the enticing, but never distracting, projector screen sits Junior Elvis Washington. If you can only see his face, you may think he is watching a local news program or reading a less-than-intriguing book. He makes his powerful, impressively balanced drumming look almost tedious; based on his countenance, you'd think he is slightly perturbed by the drums. But when brief smiles escape from his face, it seems clear he's enjoying the show almost as much as the crowd.
Much as they might claim to dislike banter, Johnny Foreigner have mastered the art of quelling the audience between songs. Before breaking into an especially stirring rendition of the aforementioned 'Riff Glitchards', Berrow explains that a reviewer, writing for a publication which has historically lambasted the band, harshly criticized them and their latest release for being "too fast." JoFo then make a show of going into the gentle song, much to the audience's glee.
After playing other crowd pleasers like 'Hennings Favourite', 'Stop Talking About Ghosts' and 'WiFi Beach', they break from concert tradition and opt not to disappear briefly only to reappear for an encore. Berrow says it's easier for the band to just stay onstage and play a few more songs, and anyone who wants to leave is welcome. Everyone seems happy with this arrangement, especially Berrow, who notes that he doesn't see anyone go.
At one point in the show, Berrow comments that he "doesn't know when we got so popular." It might not be clear when they got popular, but it is obvious
Johnny Foreigner
have gained a formative and enthusiastic following. The genuineness, talent and devotion that seeps through in their recordings is all the more evident in their live shows. What's more, to see Johnny Foreigner once is to want to see them again, and you'd be very hard pressed to be disappointed. Their performance at the Borderline is one in a line of many that reminds you why you got into music and live shows in the first place.