James Apollo @ The Malt Cross, Nottingham 22.11.11
David Brown catches up with travelling American troubadour James Apollo during his recent trawl around the UK
Nov 22nd, 2011 at The Malt Cross, Nottingham / By
David Brown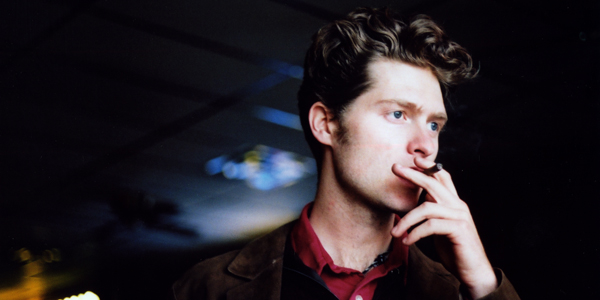 It is a November night in Nottingham and the city streets are a strange mix of fairground attractions and on-going roadworks. Flashing lights and traffic lights. A few steps from the main thoroughfare, a warm glow eminates from The Malt Cross pub in St James Street. Stepping inside the interior is revealed as a long, narrow galleried room with a bar offering drinks from around the world and a couple making themselves at home in the comfy settee that is effectively the front row. Observers have compared it to being inside an old ship, imagery the American doubtless singer feels familiar with as maritime connections crop up in his songs and his conversation.
The stage is at the far end on the upper level and
James Apollo
and musicians, upright bass plus mostly-brushed drums and percussion, are going through their soundcheck. A version of The Clovers' 'Poison Ivy' puts everything where it ought to be.
The pensive, thin American strolls over and, with a smile, exchanges greetings then drains his glass of the remaining traces of dark ale. It is difficult to pin down exactly where James Apollo comes from in the States. He is a travelling man and has spent time in various towns and cities after being born in Arkansas on Christmas Day in 1980. He likes East Coast cities such as New York and Seattle, but then he also favours parts of the West Coast too. As if to complicate matters, one of his songs on his latest album
Til Your Feet Bleed
is called 'No East, No West'. The release of that album on the No Alternative label is one reason for his current tour around UK venues; another is that he likes it here. His first venture to Europe was a few years back providing solo support for Canadian Morgan Finley, but he keeps coming back.
Inevitably the subject of the difference of touring in the UK compared to the US is raised. They'd been in Glasgow the night before and after this gig would spend the night in Leicester before concluding the present dates in London.
"Sometimes when we're on the road at home we will just pull up and have a sleep in a field or around the back of a gas station. One of the best situations is when we spend the night in a hotel parking lot and then pile in for a free continental breakfast in the morning. Usually one of the more respectable looking members goes in first to create the right impression," he says.
"On tour over here there is a comfort level, but you can't get away with so much because everything's on camera now!"
Perhaps fortunately the cameras weren't rolling when the band took a break in the south-west and experienced the English coast in wintertime.
"At the foot of the slipway there was an area of mud and I asked 'How far do you think I'd sink in there if I jumped in?'" The bets were placed and James jumped in – up to his knees! "I travel light and my trousers are still caked up," he said giving his legs a quick brush with his hand.
No.1 on their play list on the road has been Harry Belafonte as James enjoys listening to a mix of music types including 1960s music, calypso and rhythm exploring classics such as 'Caravan' by Duke Ellington. When you hear his music, you can hear where he's coming from.
Their one 'day off' between appearances wasn't exactly a holiday as they spent 23 hours in the recording studio and very productive it turned out to be too. James recalled that he once used the three-day gap at a studio while the musicians who had been spending weeks there took a break to record an album. An album of nine or ten songs in the old tradition is fine by him and a quick turn-round preferable, though you know he is the sort of person who will want to get it right. Because of the constant nature of touring, James likes to get away from it all when it comes down to being creative and writing new material. Anyone whose heard any of his recorded output will realise that there is a sound that Mr Apollo likes to create using a variety of different instruments and rhythms with a retro character to it yet creating something that is very much his own.
His songs tend to be dark, emotion-filled affairs using different instrumentation to create mood pieces. In the US he will tour with a six or seven-piece band, over here there's just the three of them, with The Cadbury Sisters, who provided the support for most of the present UK dates, joining in on backing vocals and handclapping as required. They'd had the luxury of a pedal steel player at Glasgow the previous night, but they'd have had problems finding room for any more on the elevated small stage tonight. As it was the drummer had to remove a cymbal to let the harmonious sisters join them a couple of songs into their set.
Naturally several songs appeared from the current album such as 'Happiness', a couple of tasters from the next one and material such as 'Call Off The Violins' from the splendid record 'Angels We Have Grown Apart'. At times the relaxed nature of the acoustic settings can be quite deceptive and the tranquil nature was sometimes interrupted by a burst of narrative or a sudden foot stomp and it was interesting to see how live they could naturally stretch the songs with James making shapes with his guitar accentuated by the shadows in the background light of this tall room.
It came to a close with a version of Bill Withers' 'Ain't No Sunshine', which suited the shifting rhythmic sound James works around, but if he thought the onlookers might join in with the "I know, I know..." bit he was to be disappointed tonight. There were those amongst us who had come to listen and there were others who just called in for a drink and a chat, doing their rounds of the city's bars.
On a November night in Nottingham, it's all a matter of swings and roundabouts.