Jackson Firebird @ Barfly, London 17.08.12
Jackson Firebird recently hit the headlines for being the reason behind an Australian pub cancelling a Lady Gaga party. Sure, upsetting a pop star is pretty rock and roll, but you don't get the full extent of this band's utter coolness until you see them play live. If you've ever spent time jamming in your garage, you will completely understand.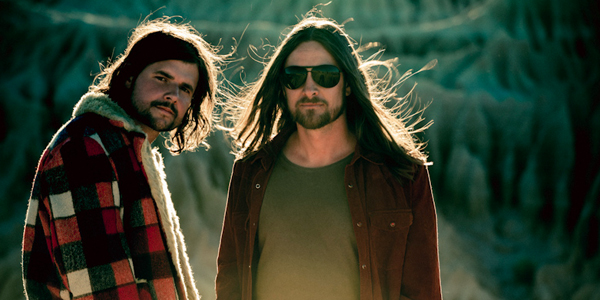 "We are dirty rock and roll," bellows Brendan Harvey and yep, this is exactly who
Jackson Firebird
are. The hard hitting Australian duo are a mighty force to be reckoned with, causing the tiny upstairs of Camden's Barfly to be punched from an awkward room of inebriated curiosities, to a full-on Friday night sweatbox party.
From the very first song, they plays with full force. Dale Hudak is kneeling on the floor slapping his trademark upside down "bottle bin" like he wants to pound it through the floor. The result is explosive and makes for a far edgier, dirtier sound than your average bass and snare amalgamation.
Hudak's straight up drumming is a filthy delight, but Harvey's guitar is also being played with a great coercion. The riffs are mesmerising and played with perfection. The guitar strings are getting absolutely battered, yet Harvey storms through every note with ease – attacking each song with a wild recklessness which makes the entire set extraordinarily captivating.
Particularly noteworthy is the duo's tightness. Despite Harvey losing himself in the power of his own twelve bar jams and Hudak concentrating on unwavering explosiveness, the pair are completely in time and in sync with one another. And it is their ability to create this rapport, whilst remaining brutal and turbulent which made tonight's performance all the more heroic.
Jackson Firebird's debut album is named
Cock Rockin'
, which sums up this unashamed, filthy performance entirely. Mischievous lyrics are sang with a distortion, adding another layer to the eruptive noise which is surely making anyone outside of the Barfly think that this band are made up of about eight musicians. Becoming transfixed by the unkempt duo and their in-your-face show, the audience are now just as dishevelled and loving every second of it. The solid rock is applauded with screams whilst the floor vibrates under the strain of raucousness.
As the last song begins, Hudak launches himself from kit to "bottle bin", primal like and awash with sweat he crescendos his aggressive trash beat whilst disappearing behind flashing lights. Meanwhile Harvey, in typical rock star style, swings his long greasy mane from side to side, moshing with careless abandon as his guitar growls. The duo builds their sound; pushing together, testing their instruments and building a wall of brutal sound. They pause and the room is plunged into silence, encouraging an eager anticipation from the breathless crowd, that is until Jackson Firebird smash one last note with perfect togetherness, sending the room into complete frenzy – beer is thrown, people are hurling themselves around and Harvey kicks his drum kit, determined to end the night with the same aggression as it started.
Jackson Firebird should be the new definition of rock and roll. Hands were shook out of sincere appreciation. Lady Gaga, you don't know what you're missing…