Husky @ Bull and Gate, London 15.05.12
Many links can be drawn between London's burgeoning music scene, and that across many cities in Australia. The forerunner would have to be Melbourne, not only holding a similar platform of musical pathways to explore, but in the winter weather it has to offer. A soggy Spring evening in Kentish Town can be compared to such winter nights in parts of the hipster area's of Fitzroy or Brunswick, which coincidentally is where tonight's spotlit musicians hale from, lead by Husky Gawenda.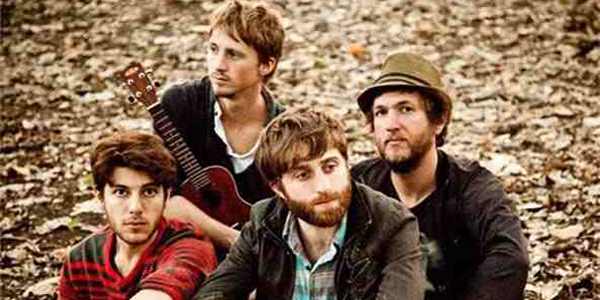 Sandwiched between acoustic duo
Delve
, the atmospheric and deep Seville-ians
I Am Dive
and minimalist exploration
Blood Music
,
Husky
appear before us, pick up their chosen instruments and begin. With little or no fan-fare we are dropped into 'Animals & Freaks', lithe in its quiet urgency and ephemeral charge. Lyrics "there was something going on that night, but I don't know what it was" aptly outline the sense of something beautiful happening before our ears, incomprehensible to the mind. This arrangement sets shimmering symbols arched over thrumming bass, sparse keys and Gawenda's charming vocals converging overhead in a cacophony of unobtainable beauty.
Luke Collins' emphasis on loops and fills highlight the subtle nature of his craft, not evident in every drummer of his ilk. 'Dark Sea', the single from debut album
Forever So
, captures Collins' subtleties, creating an undulating base for Gideon Preiss' wrought keys. The melancholic nature of the performance makes this tempo stark and exciting. Upbeat number 'The Woods' propels the performance to even dizzier heights with Preiss' introductory keyboard solo of epic classical proportions, dazzling even the most numb Londoner out of their damp reverie to cheer into the first few lines "I went walking in the woods today, found a path that lead me astray".
Being led astray is conceivable, though their collective persona is innocence incarnate. 'Tidal Wave', in its hushed chords and strained keys heralds a beauty in the destruction of "the city streets where I once went looking for love". It is revelatory in its delivery, as the brushed symbols swell, cohesive with expanding base, unfurling to connect with the dark underside of lyrics "they said it would come any day, like a monster of perpetual devotion". Gawenda's stage presence is one of absolute purity and charm, offering sparse explanations of his art "This song was written about a recurring nightmare I had about my time in Spain… and here it is". The song in question 'Hunter' certainly retains the continental feel, replete with weathered Spanish riffs, Evan Tweedie's sustained bass notes, and an abstract turn of phrase. The heart-bursting line "I came here not for love, but for the possibility of setting free the love we knew for all of time" captures their spirit effortlessly.
Showing their hand with the final gambit, and the catalyst for their winning Triple J Unearthed in 2011, 'History's Door' picks up the pace and allows Collins' to gambol through a few choice loops and fills, with Gawenda's stealthy riffs running alongside, flecked with bass that sparkles and keys that spin your head, making your heart beat faster. We are thanked, and return the sentiments in whoops and applause. A post-show glow has been ignited in a way that no fading stage light can extinguish. The darkening sky outside no longer looks so dim.