Housse de Racket @ The Lexington, London 12.08.10
Tonight at the stylishly independent Lexington, Housse de Racket's exclusive show in London before the UK release of their brilliant debut album Forty Love.
Aug 12th, 2010 at The Lexington, London / By
Sam Kelly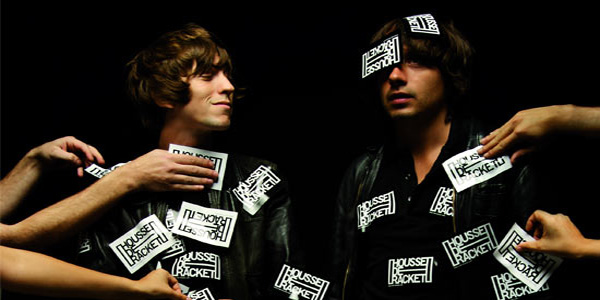 Support act
Glitches
look like they're going to burst into an uber performance of 'YMCA'. Seriously. Their outfits are atrocious, and after learning they are a serious act, genuine embarrassment is felt for them. Despite appearances, occasional flourishes of musical talent deftly nurtures the audience, yet their feverish and nonchalant pop is similarly upsetting. The singer yelps in his wife beater, but no one gets away with wearing a wife beater, not even the singer of a pop band.
After a much-delayed arrival on stage,
Housse de Racket's
Victor and Pierre swamp the audience with the dazzling electronic instrumental of the album's title track, 'Forty Love'. Throughout the set, the duo constantly work the crowd, diffusing their French charm over every smiling face in the audience.
'Oh Yeah' is an obvious classic, and rightfully well received by the crowd. The chorus is an absolute stormer, and it's clearly the big highlight of the show. Whilst the Parisian-duo perform fantastically live, it feels almost feeble without the presence of more musicians, like an actual bass player. Even if it were just a background session player, it would dissolve any niggling amateur attributes of them playing to the backing track.
They stress over performing a brand new song, "Seriously guys, this is the very first time we've played it", and the dissonance of the piece works really well for their style. It'll be interesting to hear more of the new material, and if this track is anything to go by, things are certainly looking good for album number 2 - currently in it's production stages.
They finish on the Daft Punk-esque 'Synthétiseur', and it's immediately evident as to why the likes of Kanye West highly rated the track last year. It's an incredibly catchy and dance-orientated song, and a perfect way for the pair to ooze their charisma over the inebriated audience in the gig's dying moments.
Many will be quick to make comparisons to French counter-parts Phoenix, though whether or not this relationship is a good thing for the band remains ambivalent. It seems inevitable that this association with Phoenix will be the bane of their early breakthrough upon foreign soil, and one feels that Housse will need to break out of this indiscernible cage if they are to stake their name in our stubborn English hearts.