Guca Festival - Serbia 09-12.08.12
Bearded braves south-east europe's riotous free entry brass band festival.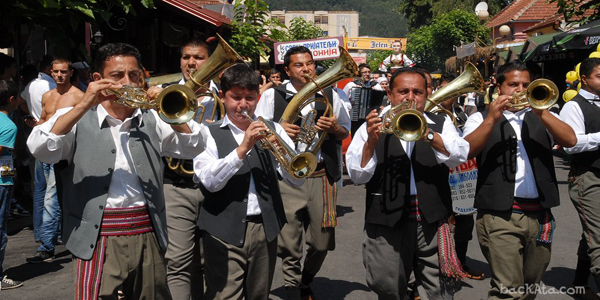 It is a Tuesday evening and
Bearded
is sitting on a bar terrace in Belgrade's bohemian quarter overlooking the cobbled streets and muraled facades that were preserved from the rampage of the communist-era architecture which dominates the cityscape. The contrast with streets mere meters away serves to make the area even more striking than it already is and serves as an ideal place to enter into the second day of recovery from the 53rd Dragecevo Trumpet Assembly, more commonly known as
Guca Festival
(after the village it is located in), or increasingly 'The wildest music festival on Earth'.
Understandably, the idea of a week-long brass band competition in a south-east european village is unlikely to excite the imagination of many people versed in the mining band tradition of the UK. However, Guca is a far cry from spending a weekend in Cockermouth with the Grimethorpe Colliery Band. Up to 800,000 people have been known to descend upon the central Serbian village over the seven days that the competition is now spread across, a vast expansion from the 1961 inaugural competition that took place one Sunday afternoon attended by a handful of local brass enthusiasts worried that the traditional music was dying out as people moved to the cities. These days, regional heats run months in advance, an international band competition is held and Balkan and global pop stars are invited to perform on the arena stage.
Seeking the authentic Balkan experience, Bearded hired a woefully decrepit 1990's Yugo for the 2 hour 45 minute (read 5 hour) drive through the Serbian countryside to the festival site. While the English language has not yet devised an utterance capable of inferring the depressingly shit nature of this particular vehicle, suffice to say that it was a blessed relief that it was a balmy 35C outside so that we could fully enjoy the raw power of the one air vent; that the squealing front axle provided a welcome soundtrack in the place of the non-existent radio or cassette player; that the 5th gear slipping into neutral whenever exerted added an exhilarating thrill, say when overtaking an articulated lorry; and that the reverse gear's 1/20 success ratio for being located conveniently allowed us the opportunity for countless face-to-face exchanges with a variety of colourful, angry locals on narrow country lanes.
It is fashionable in these kind of reports to mention that you can hear the festival long before you can see it but the combination of ear-splitting engine noise and the tremendous view as you wind down into the Guca valley preclude this. What I can say is that once at street level the trumpet sound assault is epic; from every direction café soundsystems, street bands and market stall stereos compete for space in air already thickened by a haze of roasting hogs, BBQ grills and relentless chain smoking.
The vaguely intimidating white-eagle emblazoned flag of Serbia appears to be pinned, hung or otherwise displayed upon every available surface. It is a cultural immersion in Serbia, although of course, only in one side (let us hope that a weekend at Reading festival does not leave a foreign visitor feeling that they have been exposed to the heart of British culture).
Having risen to international prominence through the films of Emir Kusturica and more recently Sacha Baron-Cohen's 'Borat' movie, Serbian brass bands are roughly 10-piece ensembles (orkestars) that play 2 distinct styles of brass music (Trubaci); a slower, more gentle style is mainly played by the bands from western and central Serbia while a faster, uneven and heavily ornamented style is performed mostly by the Roma bands from the south. Both exist in heavily remixed formats for nightclubs and bars allowing the party to continue way after the bands have run out of steam.
The unique attraction of the festival lies within the small network of streets that run throughout the village, you can easily forgo the official 'stages' and simply watch the orkestars patrol the street bars and restaurants looking for business. 1000 dinars (£6.60) buys you your own personal blast of brass as the Orkestar surround your table, continuing to play as long as someone is stuffing dinars into their horns or slapping them onto the musicians sweat-soaked foreheads. From this perspective a tremendous amount of fun is to be had in letting the festival happen around you – forget rushing through muddy fields to catch the last 15 minutes of a set, it's a different approach. People-watching at its most gratifying.
THURSDAY
Aside from the street-based music there is a large arena within the local football stadium for the major competitions and invited popular artists. The opening show on Thursday is the international band competition, which is now entering its third year. While the musicians come from as far away as Brazil they are expected to perform in the Trubaci style as well as presenting a piece representative of their own country. It is a noble gesture from the festival organisers to acknowledge the growing foreign presence at Guca but it does feels like somewhat of an anticlimax to travel 1,500 miles for the ultimate Serbian cultural immersion to then be confronted by a French band. However
Le Spectre D'ottoka
are a good French band who clearly know and love the music, impressing the judges enough to take first place in the international competition.
Following a short beer break, the stage is swarmed by the
Dejan Petrovic Big Band
(unfortunately translated as Dejan Petrovic's Big Bend) who have ramped up the standard orkestar line-up with drum kit, electric guitar and bass, synths and vocals. This collision of the traditional and modern is reflected in song choices including an Amy Winehouse cover and a shamefully catchy rendition of 'The Ketchup Song' (yep). Now, if the music facist within you can't get over Las Ketchup then Guca will offer a pretty challenging experience; alongside some of the most emotive playing that you may ever here can sit a cover of 'Eye of the Tiger' (actually quite good) or 'Born to be Wild' (actually not). Absurdity is an integral part of the event and Petrovic tackles it with some style.
Around midnight, as the relentless boozing begins to take hold of the crowd, tonight's headline act takes the stage.
Shantel
is a German producer whose live show blends Trubaci with funk, ska and whatever else is available to create a tongue-in-cheek Europop that, while inarguably tacky, is also cleverly arranged, self-effacing and just damn fun. Shantel is a great choice to kick off the first major night of partying and by the time the crowd staggers from the arena he's justified top billing with an immense set of party tunes and an awesome live band.
FRIDAY
With the bars that line the streets open well into the early hours it is unlikely to be anytime before 3am when you hit the pillow, as such the mornings start late and it is midday before Bearded makes it to the hillside café that overlooks the festival site and orders a thick vein-spasming coffee which helps coax our eyeballs out from deep within our faces. In some kind of cosmic coincidence, at the exact moment the mega caffeine hits my empty guts an unholy blast of tuba and snare drum explodes behind us and it takes all the control this writer can muster to not void his bowels. Turning round to politely inform the band of our somewhat fragile state and current pathological aversion to anything resembling a trumpet Bearded is pleased to recognize the musicians from a CD purchased the day before.
Orkestar Danijela
, from nearby Arilje, are led by the young Danijela Vesilenovic who is the
only
female orkestar member at the entire festival and it is hard to underestimate the smack in the face that convention is taking by her (not unwelcome) presence. In such a male dominated atmosphere it is great to see the positive response which Danijela, and her family members who make up the rest of the band, receive as they are called to perform at table after table. While still only eligible to compete in the 'junior' competition it is exciting to consider that this young woman's desire to be a part of it all is a sign of Trubaci music and the Guca festival developing on more levels than music alone.
Friday night is the midnight concert of orkestars, where all groups competing in the 'senior' competition have a chance to entertain the crowd without the formality and restrictions of the official competition. It's a bewildering experience as a constant stream of orkestars perform short sets before shuffling off and Bearded would have to significantly brush up on our Serbian speaking and Trubaci repertoire knowledge if we were going to be able to tell you who was any better or worse than anyone else. While the music is soulful and endearing, it's the atmosphere within the arena that provides the greatest experience; burly men folk dance hand-in-hand, voices rise to sing word-perfect renditions of national hymns or popular choruses and plastic bottles of home-made brandy (rakija) are passed around between friends.
It must be almost 3am by the time the last band finishes and it is curious to think that in 16 hours we will all be back in here to watch the same bands compete for the ultimate accolade – the golden trumpet.
SATURDAY
Competition time is a more solemn and formal affair. At least that is the case on the stage; in the audience rakija, cigarettes and beers are passed around as everyone wriggles their way to be as close to the stage as possible and to dance as wildly as one can to the more traditional music on offer tonight. Each orkestar is allowed to perform only two pieces and must demonstrate technical ability, respect for tradition, creativity and stylistic range. It's a tough challenge within the allotted time slot and many orkestars elect to perform medleys in order to help tick off as many boxes as possible as quickly as possible. The rigid structure makes it even more difficult to distinguish one band from the other and so while Bearded can tell you that the winner of the prestigious golden trumpet was
Veljiko Ostojica
from western Serbia we have absolutely no idea what he played. Hopefully not 'The Ketchup Song'. Anything but 'The Ketchup Song'.
SUNDAY
Totally trumpeted out. Back to Belgrade.
So, what more can be said about 'the wildest party on Earth'? Did we see grown women climbing onto tables to belly dance as they are surrounded by a brass band? Yes. Did we eat a kilo of meat in two meals? Almost. Did we see a monkey walking down the street? Yes we did. But… To say that Guca is wild is like describing Nick Cave's music as quite bleak. Of course it is, but it's the countless other layers that give that wildness depth and create the most uplifting, welcoming, sensory-overloaded live music experience that this Bearded contributor has ever been a part of.
www.guca.rs