Godspeed You! Black Emperor @ Brighton Dome, 28.10.15
Post rock titans bring A/V show to Brighton with breathtaking results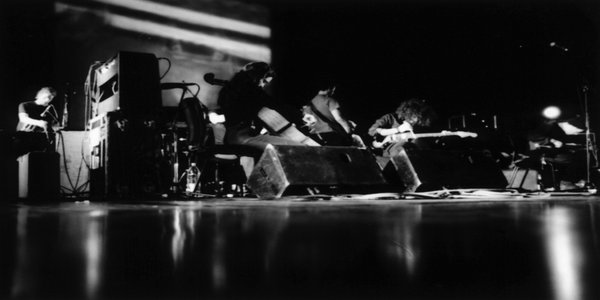 Montreal's majestic post-rockers
Godspeed You! Black Emperor
draw an intense audience to the Brighton leg of their current UK tour - people eager to lap up 20-minute numbers while watching twin arthouse screen projections that sometimes complement the music, sometimes contrast with it.
It's a crowded stage too – unless I've counted wrong, we get a septet featuring two percussionists, two 'pure' guitarists and a bass player, plus two others who swap between violin, double bass, synth and yet more guitars.
It's an array that conjures up the mighty sound beloved of GY!BE devotees, with no pause in a set that kicks off with Hope Drone and ends two hours later with The Sad Mafioso. And even though you know what you're going to get, the artfully-constructed slabs of multiple guitar noise leavened with telling moments of delicacy remains a visceral experience.
Often it feels like moods distilled into sonic sculpture rather than anything as mundane as notes. Existential anxiety niggles away beneath most numbers but other vibes rise through the mix - 'demonic Western' meets psychedelia during Hope Drone, spaced-out dischord during Peasantry Or 'Light! Inside of Light!', murky spook pop on the outstanding They Don't Sleep Anymore On The Beach.
Weighty angst combines beautifully with the fragile melodies of an almost folky air picked out by violin and guitar on Monheim, contrasting with the wailing angst of Asunder, Sweet – both among the set's highlights, as are the mesmeric percussive patterns counterpointing stabbing guitars on Piss Crowns Are Trebled.
Frail guitar builds slowly into anthemic chords on the The Sad Mafioso, a grand finale whose final couple of minutes become a sonic maelstrom under whose cover each member of the band leaves the stage, leaving just one – hard to identify in the near-darkness of the stage - to slowly turn off each amp to let the sound ebb like an outgoing tide. He departs with a laconic wave as casual as all that has gone before was intense.
Godspeed You! Black Emperor Links