Gay For Johnny Depp/The Computers/Trails @ The Boileroom, Guildford 02.03.11
Guildford is hardly known for abrasiveness and/or attitude, never mind anti-establishment-fuelled punk rock. On Wednesday 2nd March however, it nervously welcomed hardcore fag-hags Gay For Johnny Depp and their touring partners The Computers and Trails for one of the most energetic and entertaining nights our little town has seen for some time..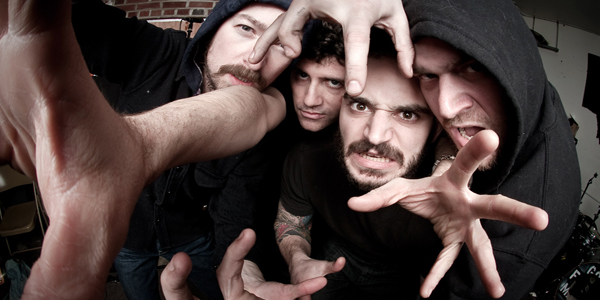 On first listening to
Gay For Johnny Depp
, especially with first offerings
Blood: The Natural Lubricant..
and
The Politics Of Cruelty
, you'd be forgiven for passionately resenting their fairly one-dimensional, non-dynamic, down-right noisy and lyrically quite appalling amalgamation of punk rock with repetitive metal riffing and high-speed tempos. You'll probably continue to dislike them unless you give their new album
What Doesn't Kill You..
a go, or simply if you attempt to connect with their vivacity, insanity and grave, tongue-in-cheek sense of humour – the concept behind GFJD [which is as much about open-mindedness and anti-hardcore as it is about nothing at all] is really what makes the music interesting. Having also listened to
The Computers'
punk rock'n'roll after countless recommendations, and
Trails'
melodic post-punk, it was difficult to see anything that might disappoint on pre-arrival.
Trails
had a very early start at 7.30pm, but this didn't prevent them from absolutely nailing their set. The group were young, and seemed a little anxious, but surprised us with their musical maturity and well-structured song-writing. One of the most endearing aspects was that every member contributed vocals, and this was utilised very effectively – there were no unnecessarily epic four-part harmonies, just wonderfully direct 3rds and 5ths coupled with well-timed screams and occasionally some melodic exchanges between front-man and drummer that created an interesting vocal dynamic.
A brief chat with the bass player afterwards led to the remarkable discovery that the band had only formed in November last year – although the group did not ooze stage presence and a real command over the audience, which can only come with time, the group were so tight and the tunes so authentic that one would have expected a life-span of at least a year or two! Trails exposed a side of the Guildford music scene that is heavily overlooked, but hopefully attracted a little more interest on its behalf; an evidently strong work ethic and a clear understanding of the required creative aspects required for their genre will hopefully take this local band a long way.
Band of the night was undoubtedly
The Computers
; this may not have been an opinion shared by all, and they certainly didn't get as positive a reaction as GFJD, but many others would agree that the set was stunningly raucous, a cacophonous concoction of rock'n'roll riffs, seductive screams and tempestuous tempos. Although half the band looked shy and a little lifeless, it was difficult to pay them much attention – front-man Alex Kershaw was fun, fluent and frantic in the best possible way, reminding one of Green Day's Billy Joe if he was either interesting or brilliant. The performance was far more explosive than the recordings suggested; although debut EP
You Can't Hide From The Computers
is an enjoyable listen, one cannot help but compare it to a less fervent version of The Bronx's debut. In a live environment, the EP's first track 'Teenage Tourettes Camp' sounded like an absolute anthem, and the 'save our souls' refrain in 'S.O.S' was magnified by Kershaw's painfully dominating scream over the minimal bass and drum intro and down-beat tempo - where on record this vocal hook is almost spoken, 'S.O.S' particularly suffers from over-diluted atmosphere and over-shadowed lyricism, but live it stood quite confidently as the highlight of the evening. Speaking to members of the audience after the show, a number of which had seen The Computers before, many agreed that they were on top form tonight, with some making it clear that they had not been at all impressed with them elsewhere, particularly on bigger stages – with this information it would be interesting to discover if this performance was a one-off moment of excellence, aided by the intimacy of the environment, or a new breath of brilliance that the group can repeat consistently. The latter would be preferable but on the strength of this set, we would recommend The Computers to anyone.
On glancing at
Gay For Johnny Depp's
merchandise, positively radiating homo-eroticism from the glittered 'Cum On Feel The Boize' [a play on the title of the Slade classic that the group cover at the end of the new album] and "Legalise Gay for Johnny Depp" t-shirts, paired with the
Manthology
album, the band's message nevertheless remained dubious – were the group sincerely homosexually stimulated, parodying the hardcore scene's over-bearing machismo [perhaps even suggesting that this male-orientated genre is itself closeted and homosexual], encouraging testosterone-crammed hardcore fans to be non-discriminatory, using homosexuality as a satirical tool in itself, or purely a way to differentiate themselves from other groups? In this way, one could compare GFJD to Turbonegro - perhaps their concept contains an element of all of these factors, or none - but regardless, the audience anticipation was well-deserved. The band were hugely entertaining, more musically competent than expected, and gloriously heavy. Marty Leopard's vocal was blood-curdling and his on-stage stamina admirable to say the least as he swung from the front-of-stage beam, threw audience members on-stage and, on the last night of a two-week UK tour, kept his vocal just as savagely sinister throughout the set, even tackling last track 'Cum On..''s ludicrously high-pitched melody with much less difficulty than anyone could have expected.
The band tore through old favourites 'You Have A Theory..', 'Belief In God..', 'Hey Fucked Up!..' and 'Shh, Put The Shiv To My Throat' with overt aggression and the utmost brutality, Leopard consistently screaming obscenities at the band and the audience between numbers, and yet somehow they never struck one as intimidating or unapproachable, counteracting their musical and social outbursts with filthy sexuality and dark, dark humour.
The set's moment of sheer brilliance was missed by us all when Leopard informed Boileroom's conservative, judgmental clientele, "The best thing about playing live is that we always play to a smiling audience, I fucking love that", at which point everybody cheered and failed to pick up on his sneering mockery; a couple of songs later and Leopard helped us all get in on the joke with the bitterly impressive command, "Smile, you fucking suburban cunt-rags!". Not only does the truth hurt but an American beating us at sarcasm, what many English residents incorrectly consider our own game, further added a 'fuck you!' that we royally deserved - the quip succeeded in making everybody smile however, regardless of how uneasily.
The band looked brilliant too: three of the four members sported over-exaggerated white-trash outfits whilst guitarist Sid Jagger sported a smart suit-and-tie combination. The extremity of the difference dramatically ruined the traditional rock'n'roll aesthetic and complimented the group's non-conventionalism [even within their own genre, which itself attempts to champion non-conventionalism, and subsequently creates new conventions in the process] down to the ground.
All in all, quite an enjoyable night really.
Listen to Trails at
www.myspace.com/trailsofficial
The Computers' new single 'Group Identity', along with the
You Can't Hide From..
EP, is available now on iTunes
Gay For Johnny Depp's new album
What Doesn't Kill You, Eventually Kills You
is also available here
Gay For Johnny Depp Links