Frankie Rose & the Outs @ The Luminaire, London 14.12.10
Frankie Rose & the Outs' self-titled full-length debut is nothing short of mesmerising, an ethereal affair with stunning melodies, atmospheric instrumentation and complex harmonic arrangements. Having played the album almost repeatedly since discovery, one naturally retracts slightly from the expected neutrality required prior to a live review. Quite frankly, great things were expected.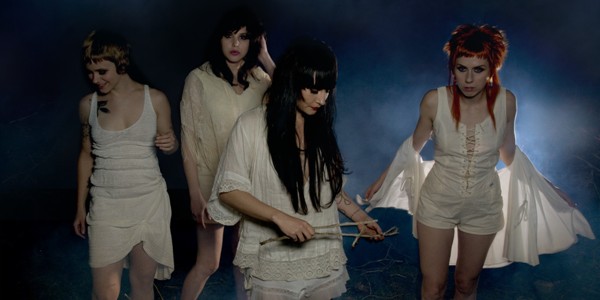 It is always interesting to see how a band adapts their recorded sound into a live context, and more often than not the performance aspect is heightened to mask live musical insecurities, and why shouldn't they? The Outs, however, are among those rare bands who do not need to disguise a thing: the live experience was utterly compelling.
After some reasonable support acts [special mention must go to Los Angeles rapper Vice Cooler's project
Hawney Troof
however, which was fantastic], the group opened with the only down-tempo song of the set, 'Save Me', which immediately dissolved any fears that the vocal harmonies might weaken in a live environment. From here, we were well and truly theirs: the album tracks sounded astounding, from the rich stomp of 'Must Be Nice' to the hook-infested 'Candy' and new single 'Girlfriend Island', every song was performed with ease, likeability and a refreshing lack of arrogance. Set highlight was 'Little Brown Haired Girls', arguably their best track, which was played with absolute conviction and definitely forced a few reserved hipsters to sway more than they might have liked.
Just before their final track, the trashy, Cramps-esque 'Don't Tread', Frankie asked us "Where are we going now? We finished so early!". This, combined with the surprising volume of middle-aged businessmen, some of whom it is certain were music industry professionals, in the audience took the question one step further – having witnessed this performance, it would be criminal if
Frankie Rose & The Outs
did not go places, big places with big independent labels that help develop a big fan-base and big future endeavours.
If they're not back for 2011's UK festival season, it will be a travesty.
Frankie Rose & The Outs' new single 'Girlfriend Island' was released on 13th December and is available on iTunes. The debut album is available everywhere – get it!
Frankie Rose And The Outs Links