Frank Turner @ O2 Arena, London 12.02.14
Folk-punk troubadour triumphs at one of his biggest standalone shows to date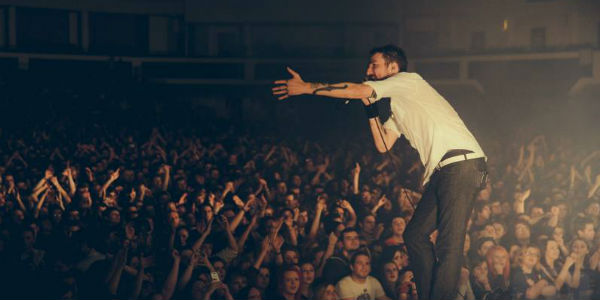 Apparently
Frank Turner's
breaking the USA. When you think about it, it's not that surprising – reasonably good looking, middle/upper class dude who plays accessible folk-pop songs about England in an acutely English way with an intensely English accent and with a dash of English punk sentiment; he's an Anglophile's wet dream. In addition, recent album Tape Deck Heart is Frank's safest, poppiest venture yet, pure radio friendliness without the bite that made his early material exciting, but a body of work that's sure to attract the masses.
Frank's always been one of those artists with a fairly polarised oeuvre; his songs either seem fresh and brilliant or samey and middle-of-the-road. It's also clear that he works best as a live experience (specifically as a festival experience,) and the fact that an independent artist is headlining and near-filling the O2 Arena is proof if nothing else.
We caught the very end of Frank sound-a-like
Beans On Toast
, and in our short encounter couldn't work out if he was just a bit intimidating or genuinely quite problematic. We then did some post-listening and discovered that actually, he's pretty fiercely the latter.
Then onto the breathtaking
Flogging Molly
, who, frankly, killed it. From punk rock anthem 'Drunken Lullabies' through a storming set of their best-loved tracks, Dave King and the gang exploded with an unrivalled sonic energy, their remarkable blend of velocity-driven punk rock and traditional Irish instrumentation mixed to perfection by the O2 soundsmiths.
So, to return to
Frank Turner's
strength in the live arena – it's clear and obvious. He is also the type of person who can inject positivity into a performance like few others, no doubt because he's an incredibly privileged, talented man, and his whole act revolves around dispelling egocentricity (which always seems a little 'why bother?') and pushing a 'don't worry, be happy' ethos to a demographic who, from a sociopolitical perspective, don't look like they have too much to worry about anyway. But this is a dash of post-cynicism; we didn't feel any of these things when we were there. There were genuinely lovely feelings of positivity all round, the crowd were going ballistic, all of the songs sounded 20% better in a live context, and Frank become everybody's best friend for this one wonderful moment; Christ, he even made us feel that we were all equals from time to time (the clever sod.)
A number of old favourites peppered the new: the dazzling opener 'Photosynthesis', the genuinely lovely 'Reasons Not To Be An Idiot', the speed-folk treasure 'Try This At Home' and the cutesy 'I Knew Prufrock...' But it was the oldest of the lot that took the whole experience to another level. Hands down his best track, 'The Ballad of Me and My Friends' encapsulates so many factions of youth and the roots of artistry, and highlights a handful of wonderful lessons that the young can teach the old.
As mentioned, the O2 is one hell of a venue for an independent artist to play, although again, perhaps this is reasonable for our age; it's been proven time and time again that you no longer need a record label at all to achieve remarkable success. But for all its grandeur, tonight didn't feel like the peak of Turner's career.
Tape Deck Heart
may not have been especially daring, but it certainly doesn't feel like it's all going to be downhill from here. I still believe.