Folks @ The Islington, London 07.06.13
Fresh from successful European support slots with Noel Gallagher's High Flying Birds and armed with new single 'We're All Dead', Manchester band Folks descended on The Islington, London, on Friday night.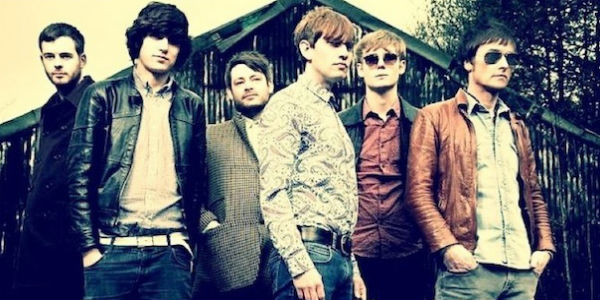 Tucked into the rear corner of the bar and crammed on to a stage that could barely accommodate your local Karaoke host, let alone a six-piece group,
Folks
showcased the mish-mash of musical styles and genres that is their first album
I See Cathedrals
.
Ironically, and unfortunately for Folks, the atmosphere inside the venue probably would have benefitted from some alcohol induced over-enthusiastic Karaoke singing, as reaction to the majority of Folks' musical offerings rarely reached the casual nod-along.
Folks, undeterred and with their energy probably still spiked from their recent European jaunt with fellow Mancunian Noel Gallagher, raced through their openers which included the progressive 'Four and Twenty Blackbirds,' with frontman
Scott Anderson
snarling his lyrics before the song reached its crashing crescendo. In tow, lead guitarist
Thom Fripp
, who quite obviously takes musical influence from a band fronted by another well-known Thom, complimented Folks' big sound with animated solos and melodic riffs around songs like the psychedelic tinged 'Avalanche.'
Although it's immediately noticeable that Folks' voluminous set would undoubtedly fill a bigger space, at times it is hard to pinpoint a distinct musical direction within the band. This isn't always necessarily a bad thing, and Folks do boast some intelligent and creative song-writing that is surfaced in emphatic fashion when their six members display it live.
Rolling into the obligatory mid-set slow-burners, Anderson offered his insightful story telling with 'People I've Known,' harmonised by soaring backing vocals and again displaying the advantages of having six people exhibit your songs. It was a moment of Beatles-esque vocal arrangement that was, however, quelled soon after when the band rather contrastingly converted to a more straightforward rock sound for the latter stages of their performance.
Sandwiched in between the heavier guitar driven tracks 'My Mother' and set highlight 'Skull & Bones,' Folks premiered their first live play of new single 'We're All Dead', which momentarily sprang a small section of the audience into life with its rapturous choruses that plummet back down to Earth in soft vocal driven verses.
The fact is that what Folks do, they do well. It was an energetic and direct performance that packed some punches, but was somewhat deflated by a static and unresponsive crowd. This is a little unfortunate as sometimes band and fan interaction can be the defining factor that separates a routine gig from the one that people will talk about for years to come; seeing that band in an intimate venue before they 'made it.'