Foals @ The Crystal Ballroom, Portland, OR, 22.05.14
Oxford post-punks continue their ascent Stateside in dazzling fashion
May 22nd, 2014 at The Crystal Ballroom, Portland, OR / By
Erick Mertz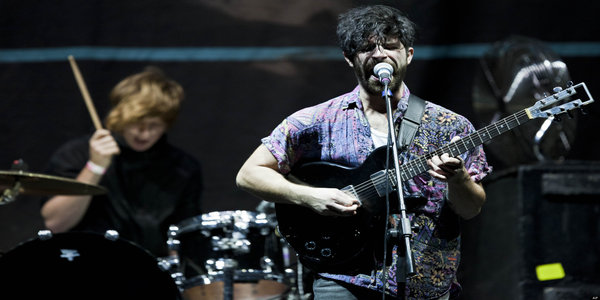 Before
Foals
emerge from behind the black felt curtains, stage lights begin alternating between fractured white and thick shafts of violet. They cast the sort of blunting hue that suggests the arrival of something otherworldly. The swoon effect is immediate. Suggestion is a strong drug, perhaps stronger than anything one can place two fingers on and measure like a pulse.
As the band assumes positions and a wave of frenetic energy washes through the audience, notions turning abruptly from the sprawling imagination to beats. Rigid bouncing begins in the front row, rolling back as the first chords of "Prelude" unfurl. One is immediately overcome with the idea that every single person in the room shuffled up those narrow stairs for precisely this moment.
Foals won the Q Award in 2013 for Best Live Act and have twice been nominated by NME in a similar category. Watching them cast their sway over the Portland audience there is no doubt that recognition is well deserved. The UK band's front man Yannis Philippakis is a handsome, engaging performer and not just for his enticingly warbling voice but for the intensity he brings in delivering every single line and lick. In the midst of "Electric Bloom" he bounces from the stage, runs down the center aisle of the venue before climbing into the crowd's arms. While Foals present as accomplished, hard rocking artists, Philippakis brings a kinetic twist to the stale sense of band as art installation.
While Philippakis is undoubtedly the centerpiece, his counterparts provide no pale company. Jack Bevan and Walter Gervers lay foundations for the band's intricate, sometimes jittery structure allowing a mellifluous flow of keys and cascading hooks. At times watching them stretch out on the venue stage, I wonder whether they'd be more comfortable cramped into the corner of a house party. In a room filled with a thousand people, their connection is so immediate.
Back and forth, Foals finesses their crowd through potent jams and shimmering moments of sultry splendor. Time feels lost but to what. This is that other place, I think, watching the two statuesque blokes who have been passing a joint back and forth pump their fists and hug. The band tears the door off as smoke lifts through narrow spindles of white light and then everything crashes delightfully.