Field Day - Part 1 07.06.14
There's nothing like a proper outdoor festival in the summer when the sun's being kind and the lineup is a well devised mixture of classic bands and awesome lesser-known acts subtly battling to become everyone's next big music crush. This year's Field Day gave us both predicted brilliance and pleasant surprises in abundance; here's our day one breakdown…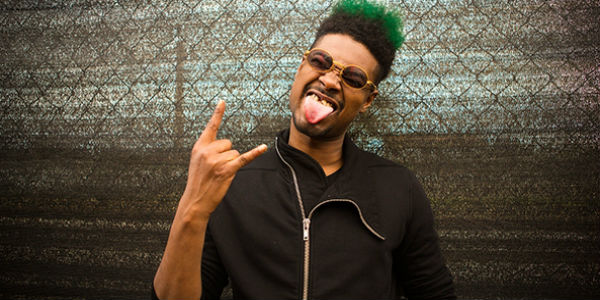 We arrived nice and early to catch main stage openers
Arthur Beatrice
, who treated us to a chilled set of groovy indie pop tunes that we didn't expect to be quite as good as it was. Both vocalists really hit the mark and worked wonderfully together, and their live sound was a really pleasant surprise in light of the recorded stuff we'd heard previously, which is alright but doesn't do the material justice (credit where credit's due to the main stage sound crew as well, you lot rule!) Next year should be a good one for the band if this performance was anything to go by. Then we ran over to catch the first couple of
Thurston Moore
tracks. What's striking about Moore is his timeless outsiderism; he may have been a generation or two apart from half of the audience, but he still embodies the awkward weirdo kid inside us all. The cool metallic soundscape intro which opened out into drone grunge two-chord awesomeness (which might have been a heavy version of 'In Silver Rain with a Paper Key', but we might be wrong) was a great opening, though the following track we caught was mediocre at best.
Next we were off to see
Sky Ferreira's
full set purely on the strength of the intensely brilliant 'Everything Is Embarrassing', and we were really excited to see what she'd pull out of the bag. It's clear that Sky Ferreira is to 2014 what Ellie Goulding was to 2010: a stereotypically beautiful individual with a good mainstream pop voice, singing hipster-tinged, slightly edgy but ultimately mainstream pop co-written (which the cynic in me thinks might be code for 'written') by well established professional pop production teams. Much of Ferreira's material really does sound emotionlessly churned, tweaked and spat out of the pop vending machine, perfect for a certain type of 'of the moment', easily pleased fan of popular culture but lacking in the soul and substance necessary to take a place amidst the timeless pop canon. Ferreira's persona is unfortunately irritating and pseudo-cool too: the music doesn't fit the moodiness, and she seems to leave her audience feeling a bit deflated. There were definitely some really cool moments, the Madonna-esque grooviness of 'I Blame Myself' and the fist-pumping 'Heavy Metal Heart' the most notable, but the set as a whole was underwhelming and disappointing; even the incredible 'Everything Is Embarrassing' fell flat with the live arrangement.
We then raced all the way to the other side of the site for lovely, chilled afternoon dance party vibes with the formidable
Omar Souleyman
. Effortlessly cool and confident, Souleyman treated the tent to many of the greats from debut UK release
Wenu Wenu
, his winning blend of traditional dabke and 4/4 electronica predictably and rightfully winning the hearts of East London. And then the moment we'd been waiting for for months: the mighty Dev Hynes and his beyond-brilliant
Blood Orange
project, now expanded into a full uber-skilled live band, and yes, every second was golden. It was incredible to hear the majority of the
Cupid Deluxe
record (could this be the best second album, if not album, of the last decade or two?) in the flesh, mixed in with a couple of early favourites. 'Chamakay' and 'You're Not Good Enough' sounded better than ever, and 'Bad Girls' and 'Uncle Ace' were given new leases of life with Dev's unbelievable guitar work, but the highlights were undoubtedly 'High Street', which saw rapper Skepta from the album recording deliver his incredibly tough but tender lyrics to tear-jerking effect, and a perfect version of personal album favourite 'No Right Thing'.
Once we'd caught our breath, we caught the end of
Evian Christ's
noisy as fuck, heavy as fuck DJ set, and were glad to hear his excellent 'Fuck Idol' kicking about amidst his selection. Evian Christ's vibe is achingly cool—dark, malicious, aggressive, and dingy in all the right ways—and he should definitely have been on later.
After a cheeky break for chips and beers, it was over to the mysterious enigma that is
Money
, who've managed to carve a reputation for being totally antisocial and evasive with regards to social media, and releasing a host of ultra chilled, ethereal soundscape tunes with weird old video footage over the last couple of years, with a slice of understated slice of shoegaze brilliance in last year's debut
The Shadow of Heaven
. We were half picturing the band to be silent, brooding skinny jeans and winklepicker types standing behind screens or wearing masks or something equally left field. What we actually got were a very ordinary band of blokes and a surprisingly interactive frontman with an incredible set of pipes on him guiding us through a gorgeous, gliding set of soaring songs with ever-emotive, ultra-reverberated wails and yelps that seemed to always make sense.
Not a fan of standing miles away from the stage watching main stage festival headliners, and seeing a much better option on the bill besides, we ended our first day with hip hop hero
Danny Brown
(pictured), who brought with him an extraordinary energy, monster tune after monster tune, and a massive sound that threatened to rip the tent clean out of the ground. Ending with the phenomenal 2013 single 'Dip', Brown left us breathless and pumped for day two.