Emily Barker & the Red Clay Halo @ St Giles-in-the-Fields, London 24.02.11
Most will recognise Emily Barker as the musician behind 'Nostalgia', the song used in the opening credits for the acclaimed TV series Wallander. Hailing from the rural Bridgetown in Western Australia she has in fact been producing music since 2005, with her latest release Almanac finally pushing her into the limelight, and resulting in a stream of tour dates across the UK.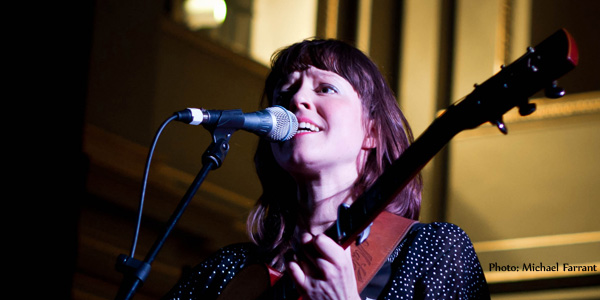 Stylistically rich, chamber-folk which incorporates an array of instruments from acoustic and electric guitar, flute, banjo, and strings, Barker and her band - which expanded and contracted on stage over the course of the evening - exposed all manner of talent and personality to the crowd gathered in the elegant St Giles-in-the-Fields.
This current UK tour, which found
The Red Clay Halo
(Gill Sandell, Jo Silverdale and Anna Jenkins) squashed into a tiny car, suitcases and all, travelling the country, performing and surprisingly still talking, Emily joked, highlighted a familial bond between the group which extended to the stage. In swapping instruments, and adding vocals and verbal quips, the mood was light hearted in contrast to the song writing which is full of a certain depth, and covers a variety of topics. 'Bones' considers the colonisers versus the indigenous Australians of her homeland, while 'Almanac', we are informed was named after a poem written by Holocaust survivor and renowned literary figure Primo Levi. Barker herself has previously stated that she sees herself as more of a songwriter than a musician, and while the musicianship of herself and the Red Clay Halo excelled on Thursday evening, it was the song writing ability that resounded in the stunning surroundings.
Opening with 'Ropes' and following up with 'Nostalgia', clearly the highlight of the evening for many, the setlist traversed Barker's folk roots with string soaked accompaniments and soaring harmonies. In fact it was a showcasing event for the album, in which ten of its eleven tracks were performed, some remaining a mirror of their recorded selves, while 'Pause' was a standout for its simplicity and starkness compared with its album version. In St Giles it became a captivating quartet of vocal harmonies, peacefully devoid of the Royal Festival Hall's organ which the Red Clay Halo used to record parts for the album.
With additional assistance from Ted Barnes, co-producer of
Almanac
, the evening was given a musical depth and breadth which at times excelled from the album. With two encores, it is certain Emily Barker and her cohorts will finally retain the recognition of which they so deserve.
Emily Barker & The Red Clay Halo Links