Electric Frog Easter Weekender @ SWG3, Glasgow 31.03.13
The warehouse at SWG3, Glasgow, saw one of the city's hottest festivals, the Electric Frog, return for a legendary Easter weekend bender – a collaboration between Slam's 'Pressure' and local record label 'High Sheen', run by Ben Martin and Vitamins. Kicked off on Saturday 30th March with headliners Simian Mobile Disco, Todd Edwards, Andrew Weatherall and Martyn, the festival wrapped up on Sunday 31st with artists such as Berlin techno duo, Pan-Pot; house legend, Derrick Carter; Norwegian producer Todd Terje and minimalist maestro, Marc Houle.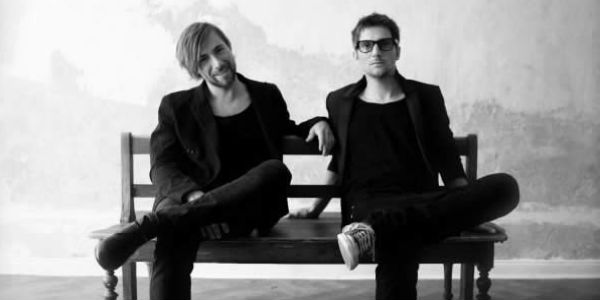 With the Sunday event sold out ahead of its Saturday counterpart, one cannot help but feel that they have somewhat obtained a golden ticket to a very special event in town to review Day 2 of the festival. As
Bearded
walked in, any expectations of a hungover-looking Frog from the Saturday night was quickly put to rest - not a single plastic pint glass littered the ground, nor syrupy drink residue glazed the sofas….wait….sofas at the Electric Frog? Yes, along with a bar which offered Merlot and Chardonnay, various choices of energy drinks and real toilets, the festival had certainly come a long way since its humble pint and Portaloo beginnings, four years ago.
The venue was divided into three main sections – the Pressure Room situated upstairs, Unit 3 on the ground floor level and a tidy little spot called the Poetry Club near the street entrance. It was here that
Martin Wheeler
(aka
Vector Lovers
) braved as opening act, slotted in at a rather sobering 6.30pm schedule. With his prior releases as electronic music producer pointing more towards an introspective, sombre affair, this evening he chose a funkier edge on the decks with some synthy, bass-laden house tracks to set off the party mood. The king of disco dominoes and Paul Weller doppelganger,
Al Kent
, meanwhile warmed up the crowd in Unit 3, schmoozing with wah-wah sounds on vinyl and soulful vocals shimmered alongside the massive disco ball suspended high from the ceiling. By the time headliner US DJ,
Derrick Carter
, came on set, everyone had truly strapped on their dancing feet, stomping to the 4/4 rhythm of the Chicago house beats. Respected as one of the best house DJs in the world, he lead a vibrant set with its fusion of back-to-roots jazz, soul and disco.
If downstairs was the light Yang element of the Electric Frog, the upstairs Pressure Room was its moody Yin persona. Having negotiated the winding staircase littered with drunken revellers with formidable fake bakes (and that's just the men), the sound of dissonant techno echoed from the black recesses of the warehouse. An ocean of sweating bodies was revealed as the strobe hit in perfect timing to
Marc Houle's
climatic set. Hailing from Canada, his music has been described as "cityscapes – somewhere between Chicago and Detroit, with a new-wave underbelly". The techno was almost eerie in style, possessing a restlessness off-set by unusual time signatures which tilted it more towards the experimental. When the clock hit 00:00 however, the main headliners,
Pan-Pot
(pictured), took to the stage. Where Marc Houle was spooky in execution, Pan-Pot's techno was almost evil in comparison. The bass was so heavy that it impaled and dislodged whatever impurities were harboured in nasal/ear/other passages whilst still maintaining enough melody to cement a 'bloody good tune'. Alongside the sinister, stabbing riffs and classic four-on-the-floor techno beat, the build-up technique from these guys were phenomenal, the skillful combination of hand-clap synths, snare rushes and breaks literally blew the tin lid off the place.
Winding down the partied-out crew downstairs was final headliner,
Todd Terje
. With 'Inspector Norse' hailed as one the biggest dance anthems of 2012, he was perhaps the most anticipated act that night. Playing a mix of progressive house and techno throughout his set, he eventually dropped 'Inspector Norse', to a puppy-eyed salivating crowd. Finally, he concluded with his remix of 'Stand Back' by Stevie Nicks. Slow and tinged with 80s nostalgia yet still with a finger on the electro pulse, it was a subtle yet fitting farewell to an outstanding event, laying to rest the ghost of Electric Frog until its legs twitches again in May 2013.
www.theelectricfrog.co.uk