DIIV / Deap Vally / Pale @ O2 Academy, Glasgow 25.11.12
Brooklyn shoegazers continue their ascent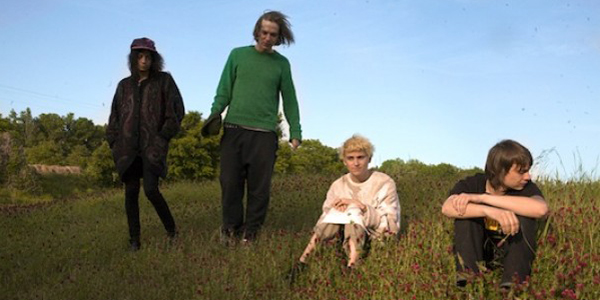 Tonight, the crowd are like a mad swarm of bees, piling into the entrance of Glasgow's O2 Academy to see a sell-out show. Each person clutch their entry ticket with honey-glazed eyes accompanied by slightly drooling of the mouth – not unlike wee Charlie Bucket with his winning golden ticket to see the Chocolate Factory. Except these fans are here not for the latest gobstopper or chocolate bar but here to see a headlining band, fresh into their UK tour and barely out of its own shiny new wrapper,
The Vaccines
.
However, if each ticket holder were to carefully inspect the tiny print underneath their fingers, they will see the names of the three support bands on tonight:
Pale
,
Deap Vally
and
DIIV
, barely noticeable under the bold title of the headliner. And here is where Bearded's job lies - to magnify, examine and justify (or nullify) under its beady eye, these relatively unknown bands of the independent label.
First up is the London-based electro band
Pale
. Being at the bottom of the support band hierarchy, you would expect
Pale
to somewhat live up to its title – wishy-washy and a bit lacklustre. Although it is evident that Pale are still at the foetal stage of development; sketched melodies float overhead and merge with skeletal drum loops to create one indistinct spectral landscape; they manage to make an impression with catchier synths and meandering riffs of their more concrete manifestations, most noticeably the xx inspired,'
Too Much
'. Desolate yet hauntingly beautiful, it is hopefully a glimpse of what the band has yet to offer.
Such is the lightness of the previous band Pale that when Californian all-girl rock duo,
Deap Vally
, let rip their thrashing drums and fierce guitar licks, they are like a spontaneous combustion erupting on stage. They tear up the set with a punk rock ferocity punctuating songs with snarling and spitting lyrics. Visually, they also manage to leave a trail of friction-burn in the eyes of male admirers with their rather tight hotpants. When they launch into their debut single, Gonna Make My Own Money, and eventually end their set with End of the World, it is not hard to see where the comparisons to White Stripes and Black Keys came from. Even Josh Homme (Queens of the Stone Age) has sang their praises. Quite simply put, these girls are rockin'.
Finally, the third and last support band,
DIIV
(pictured), take to the stage. Hailing from the Big Apple, and not just from any part of New York but Brooklyn NY, these guys possess a certain cool that cannot be emanated no matter how much bed-hair products one uses. Originally named 'Dive', after the Nirvana track, lead singer Zachary Cole Smith, reminds you of a reincarnated Kurt Cobain circa Reading Festival 1992, with his bleached mop of hair.
Described as "dream shoegazers" by some, DIIV are admittedly introverted in style yet you can see their passion for music dominating their execution from beginning to end. The band sway in gangly-legged synchronisation as if trapped in a deep euphoric introspection as they launch into the jangly chords and exuberant bass line of Past Lives. The following tracks Human and Follow, are a breath-taking floral arrangement of melodies with guitars overlaid over each other whilst dripping with reverb. Occasionally, the psychedelic wisps of sound will join in unison to create bolder, more abstract snippets of 80s & 90s indie-pop sounds, with hints of The Bluetones and Stone Roses showing up in arguably the two best tracks of the Oshin debut album, How Long Have You Known, and Doused.
Shoegazers? Most certainly. And DIIV must be the most interesting and talented bunch of shoegazers out there.