Dexys @ The Barbican, London 16.09.12
It took twenty-seven years but Dexys have returned from total band implosion and have just finished touring their critically acclaimed new album across the UK. Bearded got more than we bargained for at the band's London show .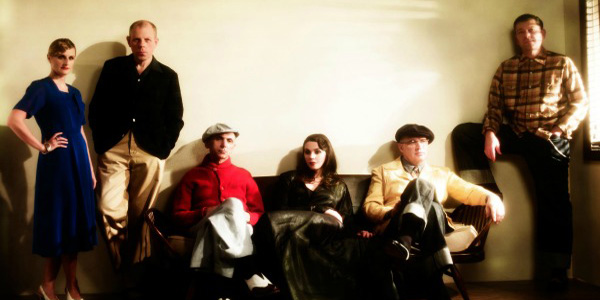 It is a rare evening that begins with a burlesque show in the company of one's father.
Interestingly this is the situation
Bearded
found ourselves in on a warm September Sunday as we settled into our seats amongst the flat caps and leather jackets that make up a healthy portion of the Dexys audience. Vaguely incongruous to the stiff surroundings of the Barbican the burlesque draws a smattering of wolf whistles but really it serves a purpose to introduce the madcap cabaret that is to follow.
Dexys
(Formerly Dexys Midnight Runners) are currently touring the UK in support of their latest album,
One Day I'm Going To Soar
, which is the band's first release since 1985's gloriously weird
Don't Stand Me Down
. While this is not the space for a full record review it is worth mentioning that
One Day
has not suffered from the creative gap, it is a terrific soulful pop record that kicks fitfully through a series of painfully honest lyrical scenarios backed by subtle and inventive arrangements. It is a persistent injustice that too many people think Dexys are little more than 'Come on Eileen'. In reality they should at least be considered alongside the grooves of indie heroes Orange Juice and the lyrical beauty of The Divine Comedy.
Tonight they are going to perform the new release from start to finish followed by a set of favourites (not 'greatest hits' insists front-man Kevin Rowland). Sure, it is not exactly an original format but it does display a certain confidence in a record that has hardly had time to achieve a cult status. The move is somewhat necessary however as the album is loosely based on the chronology of a typical (read: failed) Rowland romance. While other artists may wear their hearts on their sleeves, Rowland pulls the beating organ out and holds it to the microphone. It's voyeuristic and absorbing listening.
The stage set unlit, a shadow can be seen moving towards a keyboard and soon the melody of album opener 'Now' eases through the sound system. More shadows move and Rowland's voice gently croons through the darkness, "Well it was way back in the forties, from the Western part you came…". Stage lights come up fast as the full band kicks in, "Attack! Attack! Attack! Attack!" The sound is predictably looser and muddier than the studio recordings but the groove still punches through and fills the venue. It is vibrant, urgent and unhinged from the get go. Dressed in a unreasonably baggy suit Rowland resembles David Byrne wearing the 'big suit' in Talking Heads' concert film
Stop Making Sense
. Confident and melodramatic; he plays with vocal delivery and bodily gestures, slopes around the stage with purpose and at times disappears deep into his own egocentricity.
After a couple of songs the show takes a significant shift towards mad town as various members of the band are involved in an ongoing series of cabaret styled exchanges; what Rowland describes as "acting but singing". Assumedly incorporated to highlight the links between songs these sections are frequently (and perhaps intentionally) awkward. Charming and unusual, yes, but, in the words of my father; It does have a whiff of school production about it. Whether or not the theatrics add to or detract from the music is up for some debate. For this Bearded contributor it certainly made for one of the more bizarre live music experiences of my life.
The album set is bookended by two of the strongest performances of the night in the form of 'Now' and the bleak lament of 'Its O.K John Joe'. Similarly the mid-album pieces that feature new addition Madeline Hyland are tremendous as she tries to deal with the realities of a relationship with Rowland, spitting "Kevin don't talk to me, I don't even want to see you!" It is in this format that the front man's "Acting but singing" is truly realised, and in this format its great. The same praise would be difficult to place upon the community theatre-esque policeman sketch that runs through the encore of favourite tunes including 'Come on Eileen', 'Tell Me When my Light Turns Green' and 'This is What She's Like'. The band play the past repertoire with the same passion and enthusiasm they have for the current pieces and it is exciting to be hearing these witty and imaginative pieces of British music history that have gone unperformed for twenty-seven years.
Bizzare but fascinating, frustrating but compelling, deeply gifted but obtuse. Dexys are all this and more, which is perhaps why they remain so vital.