Devon Sproule / The Pictish Trail @ The Louisiana, Bristol 04.09.12
The twelve rugged and beautiful square miles of the Hebridean isle of Eigg are undoubtedly too small an area to keep contained the exceedingly large personality of Johnny Lynch (The Pictish Trail), one-man acoustic/electro balladeer, and co-founder of the Fife based collective, Fence Records.
Sep 4th, 2012 at The Louisiana, Bristol / By
Cloudrunner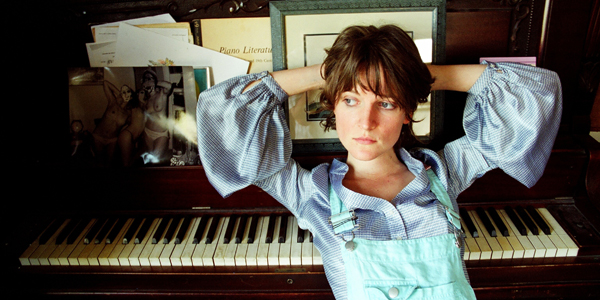 Lynch is a funny man, a funny man who can create a raucous atmosphere with it, which puts a crowd at ease; a human quality that contrasts with a singing voice that is so pure, so smooth around the vowels, and so wild in the other, non-raucous sense of the word, so Eigg-like perhaps. On record, this fabulous instrument is often masked and distorted by a technology that a record company owning folkster from Eigg would latch onto quite logically. Live, leaving the sequencer aside, the effects are mainly on his guitar, which allows his voice to climb right inside your head, where it may just remain licking at your vowel shaped brain for evermore. Now, Lynch is a fine songwriter, he is prolific enough to be commercially viable, he knows his subjects, has a knack for writing good melodies, a fine lyric and all the rest of it. Where he shines most though is as a performer; he has presence, employs his technology at the right time, and when he loses himself in the music, he invites you to do the same.
We are reliably informed that this is Nige "Whitey Guy" Tassell's first outing as a promoter, and it is a fabulous touch to have him act as a proud host and introduce the performers. As well as providing yet more camaraderie, he reminds us how lucky we are to have
Devon Sproule
with us in such an intimate setting.
In a parallel universe, Ontario born, Virginia raised, multi award winning singer-songwriter Sproule would be a household name already. Let us not wish to go there just yet though, for we may find Eigg is underwater, and Ontario born Neil Young has just released a twee pop record entitled
Dream.Comfort.Memory.Despair
. No, for now we must be content with the fact that Sproule simply should be, and perhaps still could be. Like Young, she has a magic quality, and a weight to her songwriting that could be described as vintage. It will certainly see the songs not only standing the test of time, but also getting better and better with every listen, until each fan has canonised them in a myriad of uniquely personal ways.
Sproule and guitarist Thom Gill settle into their groove early on, and it's a jazz thing, with a large portion of the set being given over to songs from 2011's jazz tinged,
I Love You, Go Easy (Tin Angel)
. There are new songs too, and old, every one worth the ticket price alone. Gill plays soft notes like there's no tomorrow, and expansive chords that fit neatly between the sheets of Sproule's own old-time vintage guitar bed. The true genius of this performance though, lies in her vocal technique. Her roots and her well-travelled experience are there for all to hear, as is her love of her craft, as she fuses all types of Americana and blues into an improvised jazz style that starts bang on the melody line and then floats around it with a natural ease and grace that is really quite moving. It is also extremely impressive, and when Gill, and later Lynch too, join her in harmony, you can just about visualise the hole to that other universe open up inside your head.