Civet @ Camden Underworld 09.08.10
Topping the bill in place of Orange County's punk outfit Agent Orange, Civet waste no time in staking their claim to the stage. With names like Suzi Homewrecker, Liza Graves, Jacqui Valentine and Roxie Darling, they clearly adopt a no-holds-barred approach to their style, cultivating the audio to match the hardline image, complete with guttural snarls and roaring riffs.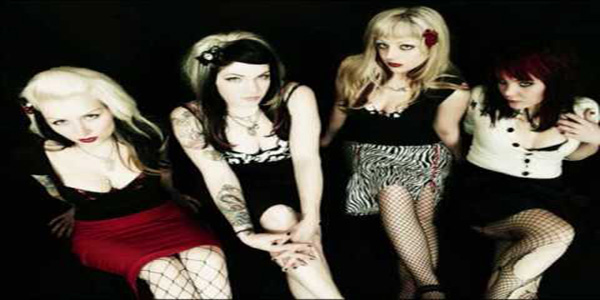 Opening with 'Cant Go Back', front chick Ms Graves kicks into action, screaming the house down with an energy which is reminiscent of Brody Dalle. Usually this would inspire loathing, but the pure passion which crawls from the belly of this bombshell proves that this is no copy-cat outfit.
Returning to the old-school femme punk which has been overlooked of late, drummer Roxie Darling thrashes out a punchy rhythm, with Suzi and Jacqui providing deep dark hooks that reverberate through you. With tracks such as the raucous 'Alibis' and 'Hell Hath No Fury', and lyrics such as 'Hell hath no fury like me. Once my love, now my enemy', the raw and embittered emotion of these feisty ladies is so apparent, they may as well be wearing t-shirts bearing the blood of ex-lovers and their mistresses. This is only one side to them though, and throughout 'All I Want' shines the tale of a sisterhood, no doubt one which is semi-autobiographical, as they collectively scream 'All I want is you to stand by my side...We've been through everything, we'll be sisters 'till the end.'
The ladies are dolled up to the nines, and being no strangers to the limelight waste no time in making it their own. With one foot on the amp, and a tight grip on the neck of her bass, Ms Valentine sports her meanest face as they collectively thrash through an epic cover of 'I Drank The Wine' by the Murder City Devils. There can be no more fitting send up of this market they corner, than their own personal tag line 'Femme Fatale Punk Rock', as each one of these stellar songstresses hang their thoughts and feelings in the air, supported by the thrashing drums and stirring riffs, breaking into snatches of solo instrumentals within the likes of 'Pay Up'.
Civet strive to concoct the perfect mixture of feminine wiles and super-strength, and the result is a cocktail that could knock you to the floor. With the penultimate track 'You Don''t Know Me', through the rising and rage-filled lyrics 'We got something that you cant touch. You can try real hard but you wont beat us', Liza spits the words with venomous energy that completely encapsulates what they stand for. Standing apart from the mainstream, and outstripping the earlier bands of the day by a mile, its not hard to understand how they got to where they are now, and why they are destined for so much more.