Catfish And The Bottlemen @ Barfly, London 03.06.13
Rock'n'roll, sperm, beards and Lawyers.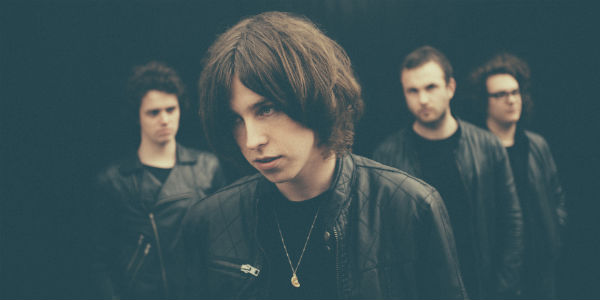 It's a truth universally acknowledged that everyone should enjoy blues and rock 'n' roll at least once in their lives. Or maybe not, but it should be! That being said, tonight's audio treat is very much straddling these two camps. Delicious. Warming us up with his sultry bluesy tones is
Tom Fender
, the man with the undeniable charm and edible voice. Fender has us lusting for his vocal warmth in his bittersweet arrangements, before we are connected with headliners,
Catfish and the Bottlemen
.
With a name that is connected umbilically to lead singer Van's formative years, almost literally (there is a sperm emblazoned on their band t-shirts at the merch stand), you can see an unutterable dedication to their cause. And what is that? To bring you unforgettable live music that is fraught with tension, humour and a touch of angst.
This being the celebration of their signing a record deal that day, the set is shorter than we would hope, but nevertheless punchy. Reminiscent of BRMC, dressed all in black, the gang of four are stood intimately close on the small stage. This only amplifies the big sound and movements they throw at you. Van's impressive range make songs like single 'Sidewinder' an absolute joy, whilst technically engaging and raucous drums from Mr Bob Hall keep you on your toes.
Taking full advantage of the top end set up on Van's mic, the vintage quality of his vocals puts you in mind of Alex Turner in Arctic Monkeys grungy prime, whilst lyrics "I want to endorse you, want you to exhaust me" hint at a bantering glint in their musical eye. Setting guitarist Billy up as the 'eye candy', perhaps an in-joke for the lads, Van draws our eye with the line "check out his beard ladies!"
Banter is second nature to these guys, obvious in the way they interact with each other. Bassist Benji and Van sharing a private joke whilst they shred their shit, instrumental style on stage proffers their style ever so effortlessly. Tight to the core, "like a nun" as Van says after the gig, but out for a good time, enjoying what they do. Each of them are constantly bringing the energy higher and higher, until there is helium in the air. Their ability to set up slow but hit 60mph before you even blink is stunning, 'Homesick' notably creating this balance between tentative strings and base swagger in circles, keeping it fresh with arrangements that hit you fast and resonate within.
Winding us down to the final track, which involved nothing but amping up, the harmonies and backing vocals, mesmerising us with Bob's stellar beats and striding fills, a marvelous half time piece and epic fingerwork from Benji are overwhelming. With a short thanks to the crowd, and a promise to meet in the bar downstairs for a drink, we are left reeling, and ready for another pint! The awesome foursome appear downstairs and make merry with friends, fans, even their lawyer who is along for the ride, and you know they are the real deal. Cool, unassuming and bloody talented. A real gem of a package, here to stay for sure.
Catfish and the Bottlemen Links