Broken Hands @ Sebright Arms, London 07.11.12
The tiny room with an aggressively long ceiling underneath East London's Sebright Arms is jam packed full. And so it should be, Broken Hands aren't going to be playing venues this small for much longer…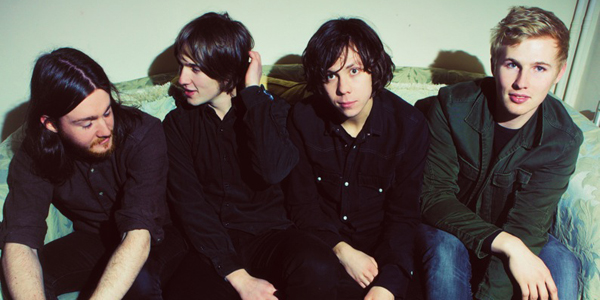 London has never seen maracas played so apathetically.
Lonesound
are touring their first EP and tonight should be the perfect time to attract some interest from an impressionable crowd. Despite impressive vocals, the most inventive part of this band is the bassist's bowl hair cut.
Luckily, 45 minutes later it's an entirely different story. Think Nirvanna meets the darker side of Kasabian meets The Black Keys.
Broken Hands
play with full force right from the first beat, arousing what can only be described as half a mosh motion from the front row of the audience two bars into their opening number.
By the time their second song of the evening, 'Sorrow' ends it's clear that the Kent boys are into repetition in a big way. A simple structure, coupled with straightforward lyrics allows the crowd to instantly pick up the words and sing back at the stage. This significantly increases the band's confidence and allows them to play harder and heavier, flipping any notion that this young quartet may not deliver, completely on its head.
Dale Norton doesn't break a sweat at all. He swaggers around the stage, brushing hair out of his face as words trip off his tongue. Considering how much noise Broken Hands are making, Norton is making it all look effortless. Bassist, Thomas Ford is also doing a great job tonight. He plays with a precision and a strength which allows the band to boast their distinctively rocky edge.
We are told to "Bare with" Broken Hands as they try out some of their new material. Occasionally the sound could do with being cleaner, however, the catchy chord progressions and memorable hooks allow for an effectiveness and edge which will see them only move up the indie-rock ladder. Particularly noteworthy is 'Curse', its gritty sound sustained by Callum Norton's vigorous drum performance, forces the previously witnessed half mosh motion into a full fury head bang.
Basic chord progressions and repetitiveness aside, the boys from Kent have created a grubby formula which really works. Their swagger and tough, cathartic sound drives them through their set and has them ticking all the right boxes again and again. Broken Hands are most definitely not just another copy cat, middle-of-the-road band and are well worth a listen if you like your indie with one hell of a kick.