British Sea Power @ The Bullingdon, Oxford, 12.07.2019
Evergreen indie rock troupe on reliably excellent form in Oxford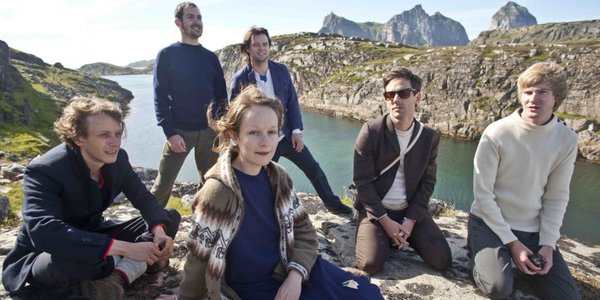 On
British Sea Power
's 2008 Mercury Music Prize nominated album, the band asked
Do You Like Rock Music?
with their choice of album title. At the band's sold-out Oxford show 11 years on, a riotous night was evidence that the answer is a resounding yes; not just thanks to the old favourites, but some heavy new songs whet the appetite for what's to come.
On a stage bedecked with greenery that instantly does so much to add a little life to a battle-hardened gig venue, the sextet have six studio albums and a rapt audience to play with. Machineries of Joy and Atom are fairly anthemic ways to kick things off, perfectly showcasing the band's knack for writing big euphoric choruses when it takes their fancy.
Gaps between songs would see the odd chants of "bring out the bear" which made no sense at the time but became evidently clearer toward the end of the show.
Five brand new songs got an airing for the first time. Electrical Storm was not a cover of that iffy U2 song, but ended with a short sharp burst of thunderous guitars. Another new song whose title I missed sounded ethereal and swampy, with insect sounds in the percussion, bringing to mind Glass Animals during their Zaba phase. The final new track Katzen Jammer built slowly but smartly, intricately building up a noisy barrage of guitars in a similar vein as instrumental post-rockers 65daysofstatic.
And this is what makes British Sea Power such a compelling band to watch live. Bad Bohemian sounds heavily influenced by The Cure, while the brilliant Remember Me from their 2003 album
The Decline of British Sea Power
sounds even more spikey and urgent than on record, recalling Joy Division at their best. And yet, British Sea Power are the sum of all these influences and so much more. Everything is uniquely them.
And then a bear came. Heads turned backward in that surefire sign that you're about to get a crowd surfer landing on your head, but instead it was someone wearing a 7 foot bear costume. It came through from the back of the crowd, dancing with everyone as it lumbered around. Seemingly this is a common occurrence, and the realisation that a bear is on two of their album covers suddenly made a whole lot more sense. Fittingly, this was the point at which the crowd went feral.
No Lucifer features the excellent 'Easy Easy' chorus channelling the Big Daddy wrestling chant, giving the crowd something to shout at their new-found bear friend. One of the speakers briefly packed up, presumably from the shock-and-awe of the assault it was receiving. The Spirit of St. Louis had guitarist and vocalist Yan Scott Wilkinson shrieking over the track's angular guitars, crowd surfing below The Bullingdon's perilously low ceilings. In one moment he grabbed on to the lighting rig above the crowd, a site rarely seen since a riotous Drenge gig 7 years ago made the venue quickly reconsider the decision to hang a TV from the same spot as audience members swung from it.
Fittingly, the show ended with the cerebral The Great Skua, one of the many brilliant tracks from the aforementioned
...Rock Music
LP. After 16 years of British Sea Power, this show served as a reminder of why they continue to be such a vital and unique outfit. Probably time to give that bear outfit a wash after this show though.