Boris @ Doug Fir, Portland, OR 18.08.14
Overwhelming live sonic warfare courtesy of the noise rock trio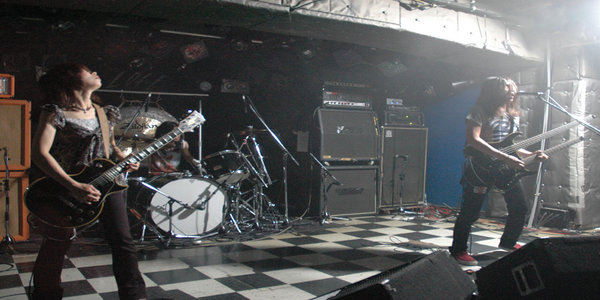 Something appeared to be wrong with the soundboard at the Doug Fir Lounge on Monday night. Before taking the stage, each band endured a lengthy back and forth with the troglodytic operator ensuring instruments were relayed just right.
The guy next to me, tall and slender, mantis-like, black hair slicked to match his attire, leaned over. "This is going to be loud," he uttered, to no one in particular, interpreting the careful sound check as a warning shot across the collective bow. Get ready, he surmised. We may blow the doors off of the place.
The stranger drifted past me in the direction of the stage as
Boris
ambled from behind the curtain, three black hat out-of-towners with a shared devilish demeanor. There is something beguiling in their quiet contrasts and the uncommonly yeoman approach they bring to their work. The opening act featured a lead singer in elk mask, a wookie dancing about, all against a scattershot haze of test pattern static – and they couldn't seem to dive a damn. Bringing the heavy is, at least according to Boris, an all business proposition.
To define the Monday night crowd as "ready" is a bit of a jumble. Ready doesn't look like it once did. Unlike other crowds for heavy music shows, there was an element of the examined life on display here. Everyone just seemed so damn urbane, arms folded, talking politely. Even as Takeshi swung the black, double necked bass/guitar over his neck and pulled back his hair once to glower out at the waiting throng, I wondered, how hard would heavy actually hit down here?
Then heavy hits and doubt goes out of me in an exhalation of long held breath. The room, which mounted its anticipation in a curious, dialectic process lets go all at once, the blast of "Melody" climbing the log cabin walls. Smoke pours from unseen canisters, teased by a back stage fan. Atsuo lets his long, raven black hair dance in the breeze. Suddenly every head bobs in unison, ferocity increasing as my eye line drifts from back of crowd toward the front.
Boris play a fantastic show. They are, in the chaotically embryonic realm of heavy music, without peer with regards to the dynamic edge they bring a performance. Somehow the band is able to germinate a set that alternates effortlessly between disorder and chaos, and a ponderous astral tranquility, often arriving and departing in the same sprawling track. It is magical, albeit a dark, somehow twisted, gnarly magic.
Most striking though, is how through all that sludge, they project their all business approach. A few fun yowls from Atsuo, rock clichés and glowing thanks, as he pounds the purple drum kit. There are a few deep rock-God knee bends from Takeshi and with that, the spell is indelibly cast. Their communion with the crowd projects confidence. They set sprawling songs loose, allowing the asylum choir of thrashing fans to find their own trail through the spacey noise.
I grasped that thread from the first strum. My eyes do not – cannot – look away as the agonizingly beautiful crescendo of "Vomitsurf" splinters like spilled tinsel around me. In a perfectly delightful swan song, the smoke thickens instead of dissipates. The band seems to get louder even as the time winnows away. Louder and impossibly slower, lulling their idealistic faithful, whose banging heads are obedient to the complicated pulses and sporadic crash of percussion.
I find the stranger from earlier amid the mass. His head has lowered into his hands, crouching low as Atsuo climbs onto the drum kit, seeking a better angle for his assault on the massive gong behind him. There was nothing wrong with the soundboard after all, I think. Even though the mass was ready and receptive, and the warning shot given, the sum total of Boris is blissfully overwhelming.