Blouse @ Green Door Store, Brighton 03.02.12
Since signing to Brooklyn based label Captured Tracks in early 2011, US Electro pop outfit Blouse have been enjoying increasingly wide spread attention. Currently showcasing their sound on a full UK tour, their international popularity is evident as a full house turn out to watch a late night performance at Brighton's Green Door Store.
Feb 3rd, 2012 at Green Door Store, Brighton / By
Richard Guy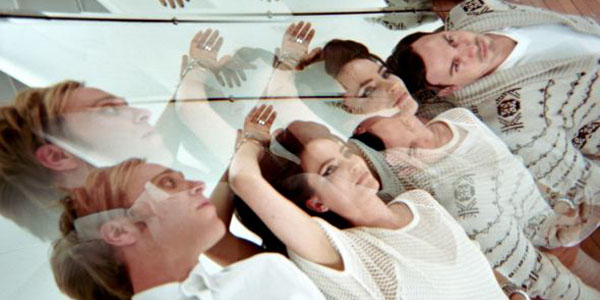 It always gives a different feel to a show when the headline act play post midnight, and tonight is no different. The support slots are mostly occupied by DJs playing feel good retro tracks, and by the time
Blouse
take to the stage the atmosphere is very much more that of a club night than a musical showcase. This causes the band no apparent problem however as they look and sound perfectly comfortable delivering their dreamy 80s tinged sound to an immediately captivated audience.
Oozing style from the word go, it is lead singer and guitarist Charlie Hilton that brings the real substance to the performance. Her delicate and often quite beautiful lyrical style is nicely contrasted by some often melodic and at times quite intricate guitar work, particularly on previous single 'Fade Into Black'. Elsewhere though there isn't a huge amount to elevate the sound far above the ordinary. The airy synth combined with pounding bass line and drums was archetypal of this sound when it was popular the first time round, and make no mistake, Blouse do it extremely well. However, they tend to stick to this mould a little tightly and as the set progresses it is at times hard to tell where one song ends and another begins. There are exceptions to this, for example the rather excellent 'Videotapes' which injects some much needed energy into proceedings and serves to show that there is potentially much more to this band than a slightly dreary 80s pastiche.
By the end of an enjoyable if slightly unexciting set it is clear that Blouse should take the energy that is following them on this tour back to the studio with them. If they can do that, and use it to find the few pieces that are missing from their sound, then there is surely every chance they can be hugely successful in the near future.