Beth Jeans Houghton & The Hooves of Destiny @ The Louisiana, Bristol 28.02.12
Tonight's sold out show is a real hotchpotch; part inter-band love-in, part misguided naivety, part weeknight-end of tour-searching for fifth gear-on-the-cusp of greatness irritation, part brimming potential, part sweat-box, part disappointingly predictable affair, part party and part awkward encounter.
Feb 28th, 2012 at The Louisiana, Bristol / By
Cloudrunner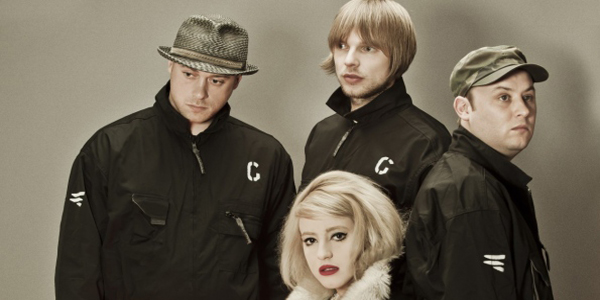 Emma McNeill
needs to concentrate on penning self-styled, standout, less middle-of-the-road material, just as much as she needs to concentrate on getting her committed and good-natured backing band to gel. There's certainly hope, things will probably go one of three ways either by falling by the wayside, or progressing into Dido-esque blandness, or growing into something altogether more intelligent and creative. Let us hope these youngsters play to their strengths and achieve the latter.
Goodnight Lenin
have the mixed fortune of existing in a post-Mumford world of faux folk with no fixed identity. It is refreshing that this five-piece at least has a firm identity of its own, and it's a collaborative arrangement that works well for the majority of the set, on occasion the balance is lost a little, as if they're not sure how serious they should take themselves. However, there's enough no-nonsense songwriting and musicianship to put things back on track. When they rock out or leans to a more reverential style, respectful to their roots, like an English The Low Anthem might; it's a path worth heading down.
Beth Jeans Houghton
has a checkered history in the press, who often quote her making naïve, even arrogant statements. Watching and listening to her, in the flesh, one can only imagine that she is often quoted out of context, for she is charming and modest, albeit in silly and naïve way. She has written a few great songs that save an overlong set, played by a rather jaded looking band, who are good but not great. The pop overtones rather threaten to overshadow what is essentially a gifted folk writer and beautiful singer; it may have been the right decision to pick a band, and mould a certain style, but perhaps Beth should have her hooves drumming to a different beat; for her lush melodies would work just as well over something sparser, yet more intricate. She is right to have faith in her own talent, but a better choice of guitar, and more thought towards the arrangements could see her becoming the star she so desperately wants to be. Joined onstage by Goodnight Lenin, they finish with a cover of Madonna's 'Like a Prayer', and though it seems to please the crowd, it comes across as almost an apology. Always leave your audience with the right thing to remember you by, and in Beth's case that should be her unique vocal tone and melodic sensibilities, not someone else's.