Benjamin Clementine @ The Barbican, London 01.04.15
The venerated arts centre plays host to the ascendant singer songwriter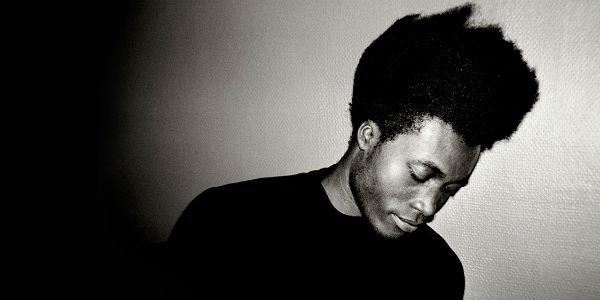 Fresh from the release of his powerful and unique debut album 'At Least for Now', the enigmatic
Benjamin Clementine
brought his intimate live show to the not so intimate Barbican Hall. Keen not to let the story of his time living and busking in the Paris Metro define him, he delivered a performance that was as gripping as it was moving from start to finish.
Beginning the show alone at the piano with nothing more than an awkward 'Hello',
Benjamin Clementine
immediately demonstrated his brilliance as a pianist with the warm acoustics of the Barbican Hall providing the perfect setting for his intense accompaniments, each a magnificent composition in its own right. The addition of his wonderfully powerful and unique vocals and poetically caustic lyrics made for a captivating and at times magical performance.
Throughout the show the songs are punctuated by brief passages of
very softly
spoken word. The actual content of these remains a mystery aside from the occasionally audible 'mother' alluding to the narrative context. This is at times hauntingly atmospheric, especially inside the beautiful and cavernous Barbican hall and the silence that follows the first of these interludes is piercing. This, along with the addition of brilliant cellist Barbara le Liepvre, cinematic percussion and bass at various points throughout the set, gives the evening the feeling more of a live performance art piece than a concert. Whilst Clementine's back story most certainly does not define him, it is clearly an undertone of his work.
Theatrics aside, the songs really do speak for themselves, each of them brilliantly crafted and in some way totally unique. The dramatic 'Adios' from second EP
Glorious You
is a highlight, as is the title track of first EP
Cornerstone
in which Clementine sings of how he is "Alone in a box of stone", another echo of his previous life. No longer alone, Clementine is clearly adored by every member of the nearly full crowd who are clearly enthralled by every aspect of the performance.
There is a touch of the pretentious to Benjamin Clementine, but as long as he can keep that in check and focus on writing and performing brilliant music, as he did tonight, then no doubt we will see a lot more of him in the years to come. Not yet a master of his craft, but certainly a fascinating talent.
Benjamin Clementine Links