Ben Kweller @ Electric Ballroom, London 08.11.12
The room is filled with a strange mix of giddy teenyboppers in their late twenties, and jaded hipsters still in their teens. Time has warped – this might be an alternate future where Big Star gained mass appeal. To rapturous applause from his audience, Ben Kweller arrives on stage at the Camden Ballrooms in "London Town", peddling his direct brand of bubble-gum Americana.
Nov 8th, 2012 at Electric Ballroom, London / By
Edward Wall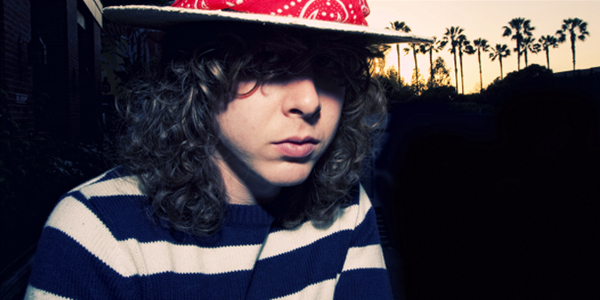 Ben Kweller
has been in t'industry since the tender age of 15, and it shows in a performance that can only be described as consummate in every aspect. Boasting backing from the brothers White (from the Electric Soft Parade - remember them?) the set starts at a frenetic pace – the trio's perfectly locked-in playing immediately creating a larger, fuller sound than the support, Tom Williams and the Boat, managed with five members on stage.
Kweller himself is from the Greenberg/Rivers Cuomo School of musicians - a permanently youthful man-child in his denim top, aged thirty but with the look of a teenager - Marty McFly kicking out the jams at his parent's high school.
However, despite the driving rock rapture of the early part of the set list, the problems of only rehearsing together once become apparent as the Whites disappear off-stage to let Kweller do his thing alone.
Thereafter, and despite Kweller's immense skill and ease as a live performer, much of the pulsating energy vacates the set. Without the good-times abandon, the filter of a full band, you become painfully aware of the shortcomings of Kweller's music, which at times borders on Dawson's Creek sentimentality. The musicianship is flawless but the songwriting is purely solid rather than spectacular, or even really defined in any way, and always limited by its essential scope (or lack thereof). It's like stumbling into a gallery to find that every piece on the walls has been painted by numbers – this might well be the most amazing painting-by-numbers exhibit you've ever seen, but, unless it's an avant-garde stunt, at some point you might well accuse the artist of a serial lack of imagination.
The crowd, however, are in raptures for Kweller's negatively asserted juvenility ("you don't know, no you don't know, no you don't know what you mean to me"). Kweller is eminently likeable – the kind of dude you'd love to meet at a house party in an American teen comedy in 1989. He's fun, non-threatening. You'd do shots together and end up hanging off each others' shoulders on a long, staggered walk into the quickening dawn.
The question is, what purpose does music like this serve? You don't need to be a prophet to see where songs are heading. In fact, listening to just the first bar of each you could probably reconstruct the entire 3 minutes on your own. This isn't necessarily a bad thing. Maybe that's why they appeal to this crowd. Predictable, knowable, they assure the future. It's ok. You can be kind
and
rich. Nothing changes. The world will still be there when you wake up in the morning.
This music might well outlast humanity itself. When all else in the universe has been silenced, somewhere a sleepy voyager will be floating through space. Listening in you can hear a tinny voice playing in his ear – an upbeat though bittersweet funereal lullaby for everything that's been lost in the fire: "You don't know, you don't know, you don't know how much you mean to me…"