Bear's Den @ Hammersmith Apollo, London, 05.04.2017
The folk band are on spellbinding form at a rapturously received hometown show
Apr 6th, 2017 at Hammersmith Apollo, London / By
Jethro West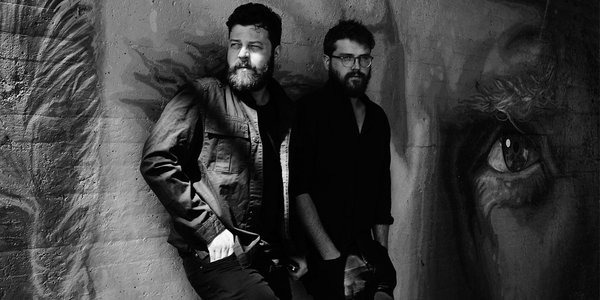 Last night marked the return of
Bear's Den
to their hometown at the Hammersmith Apollo for the final UK date of their European headline tour. As far as homecomings are concerned, the core duo of Andrew Davie and Kevin Jones, alongside their multi-instrumentalist companions, put on one belter of a show.
Bearded silhouettes boogieing in front of a spectacular light show characterised a night that was mastered by the evident passion of the band and their touching performance. Opening with
Red Earth & Pouring Rain
's title track, the band sounded like a well-oiled machine with all of their creative juices flowing in a shroud of sonorous guitars and ambience. Davie's vocals echoed around the old theatre and left a lingering chill with devastating lines like '
You can count on me/ To fuck up everything
'.
Perhaps they may have been focussed on playing their newer material in the wake of their latest release last year, with Greenwoods Bethlehem and Auld Wives clearly new fan favourites, but equally Bear's Den ensured older hits like Isaac made the set a perfectly memorable night. The latter, in particular, drew pure elation from the audience who seemed completely intertwined with the band at every chorus: "I'm going to give all my love to you".
And yet Andrew Davie and Kevin Jones demonstrated how they have evolved in the past few years with a far more sensual sound percolating through their set. In that regard, some of Islands' songs were beautifully transformed. When You Break was strikingly brutal. On stage it took on a whole new persona with the sheer amplitude of the screaming guitars and Davies on the verge of snarling '
Tell me another beautiful lie/ Tell me everything I want to hear/ Won't you lay here by my side?/ I want to fuck away all my fear
'. A phenomenal live version of the song that simply attests to the musical brilliance of the band.
Another of the best facets of Bear's Den is how inspiringly humble they are despite how far they have come in recent years. They were absolutely overawed by the reception they received at the Hammersmith Apollo: 'We're aware that we haven't said anything but tonight exceeds any ambition we've ever had as a band'. And then again, until the encore, all Davie's could utter was 'Hammersmith, I have no words', before appearing to wipe away tears before the sold-out crowd. Rather fittingly the next song would be 'Above the Clouds of Pompeii' - '
Just don't cry/ Hold your head up high
'.
Finishing with an encore that included a gorgeous unplugged rendition of Islands' 'Bad Blood' and the all-time fan favourite, 'Agape', Bear's Den thoroughly deserved the standing ovation from the 5000 plus fans assembled in the Hammersmith Apollo. It was undoubtedly a night that the very best of the band was showcased in stunning music, colour and lights to really drive home the fact that Bear's Den's world is not just painted in red earth and pouring rain…