Beardyman @ Arches, Glasgow 02.06.13
The sound of dub reggae reverberates around the archways of Glasgow's Arches, echoing sunshine riddims and bouncing ska beats off the venue's damp brickwork. This is the sound of London's Trojan Sound System, tonight's support act to beatboxer extraordinaire, Beardyman. Despite it being 8pmish on a Sunday night in not-so-sunny Glasgow, the upbeat reggae act still manages to beam down some laid-back grooves upon a pale and tentative crowd who seem unsure if they should be sparking up a big spliff or continue to gargle their Tennent's Lager until the main headliner appears.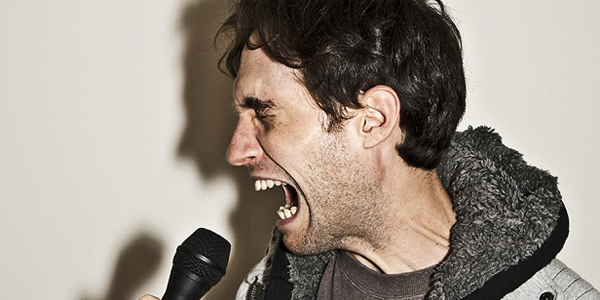 By the time
Beardyman
graces the stage however, the pale and tentative crowd suddenly becomes a pale and crazy crowd, pushing to the front row with beers sloshing over the military shoulder to shoulder formations of the slightly less fanatical. This is Beardyman. And he here to mash your head with his exasperating sound capabilities as (intake of breath)….rave DJ, sound technician, voice-over man, comedian, beatboxer, scat-man, rapper, falsetto singer and electronic producer.
Having kick-started his beatboxing skills at the age of three by copying Michael Winslow from the Police Academy movies, Beardyman aka
Darren Foreman
, was further inspired by British producer MC Xander and American beatboxer Rahzel which saw him become UK Beatbox Champion in 2006 and 2007, making him the first beatboxer in UK history to win in two consecutive years. His career then took a sharp turn upwards in the fame-profile graph, escalating off the chart with appearances on BBC1 show, 'When Will I Be Famous', E4 sponsored 'Udderbelly', and the Channel 4 show, 'Homemade' where he was given the crown of 'the weirdest beatboxer around'.
So, let us part the red curtains to the one-man cabaret show which is Beardyman Welcome to the
Beardytron Beta Tour
.
Rewind the tape. As Beardyman appears, the crowd chants "Here we, here we, here we fucking' go!" - a chant synonymous to crowds at Scottish gigs who are normally classified as 'pure mad wae it'. Perhaps in response to the fervent anticipation, he launches straight into a banging dub-step, techno, drum 'n' bass and breakbeat set, layering improvised vocal samples through his Beardytron_5000mkll system. The range of sounds generated by the beatboxer is staggering – robot-talk, scatting, acid synths, dubstep grooves, soul singing and even some yodelling thrown in for good measure. He is like a DJ with Tourette's syndrome – spitting out crazy drum loops at 150bpm and punctuating them sporadically with comedic swearing, "Everyone shout asshole!"
Ironically, it is Beardyman's dependency on the sampling technology and precision of the produced sounds which marks the downfall to his set. At times, it feels no different to going to a club, watching a DJ producer stomping out a 4/4 beat - which is fine, except after a while, it can leave the crowd with a synthetic taste in their palate. What the show requires is an antidote to this, something a little more unpredictable, something more organic…
As if in retort, Beardyman bounces back on stage for an encore. He ditches his mouthpiece and software, grabs hold of a mic, runs to the front of the stage and hurls into a tirade of brutal beatboxing for the crowd with popular tracks such as 'Rapper's Delight' by the Sugarhill Gang and Jay-Z's, 'I Just Wanna Love U (Give it 2 Me) By this point, everyone in the Arches is most definitely 'pure mad wae it', with their mobile phones thrust high into the air, immortalising Beardyman on YouTube forever as one of the most awesome beatboxers around.