Bear Driver @ The Queens Head, London 22.07.10
The cool and chintzy air of the Queens Head upstairs gig venue makes for a great setting for Bear Driver to front. Sandwiched between the synth-happy Dufflefolks, and the calm and quirky James Vincent McMorrow, their own brand of snappy, up-front indie pop spills from the PA.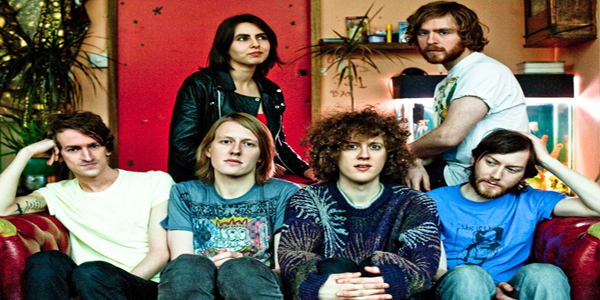 The seated and standing audience engage in frivolous banter, whilst the lead vocalist throws in his own feisty chat between songs. There is a palpable fluidity of style in their 6 song set, as Cassie, the token lady in a collective of men, breezes over the lyrics with her silver tones, tapping and twirling her tambourine with vigour. The gentlemen swap instruments with ease, picking up amongst others a wind controller keytar (no electrics required!) and a miniature accordion.
Bear Driver evoke a sense of Arcade Fire in their delivery, but there is nevertheless a solid energy and dedication in everything they do, and this fills every spare millimetre of space throughout the venue.
The opener, 'A Thousand Samurais' eases you into the sound, drawing a strange wonder in the air, as the opening lines of the chorus is met by tender tinkling keys and feathery riffs. The lack of open air and sunshine in this setting suddenly seems absurd for such an earthy tune, captured by the lyrics "This song's about the weeping willow trees, and the thousand Samurais, all left behind." The collective don't keep us cool and collected for long, as we are bounced into the next track 'No Time To Speak'. As the song gathers momentum, it becomes impossible to sit still. Those of us standing had the right idea! The kitschy setting finally feels right.
Harry, Oli, Cassie, Jon, Rich and Joseph cast their own light on stage, managing to achieve their own strong presence singularly, and as a collective. This is no mean feat for a stage so small holding 6 people, and a whole host of musical equipment. With the drummer keeping perfect timing, they maintain an impeccable equilibrium between upbeat cheek and pensive artistry. 'Balloon Race' captures this perfectly, creating images of Anime whimsey within the story that is told.
Bear Driver seem to hold the gift of creating and cultivating literary spaces within their music, opening the door into another world, and letting you peek in for just a second. The bright and soulful quality to many of their tracks makes for easy listening, and is wonderful social music. There is a definitive love and passion which speaks to the alcohol-fueled revelers.
Ending with 'Soon to be a Fugitive', a faster paced and punchy tune, the collective expertly play out the final few bars of their too-short set and thank the audience with genuine earnestness and heart-felt pleasure. The beautiful choral interludes and harmonies have come to an end, but the beauty of these tunes hangs in the air like mist.