Beacons Festival @ Yorkshire Dales 16-18.08.13
The picturesque Yorkshire Dales played host to another Beacons Festival over the weekend, as music lovers amassed the verdant setting for what was a bigger and more ambitious event than that of the festival last year.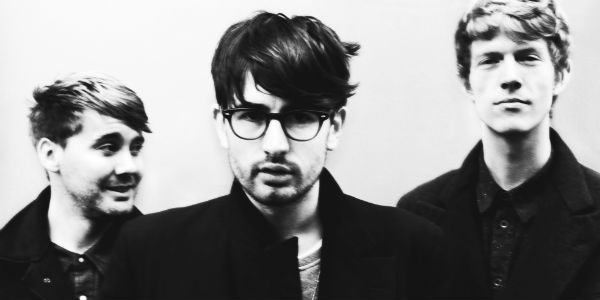 Despite being local to its older sibling in Leeds Festival that undergoes a mere week later, this boutique alternative really held it's own; with a foray of differing genres of live music, film and arts all on offer and all closely compounded, encouraging attendees to take in as much of what the festival had to offer as possible.
Futuresound competition winners
Battle Lines
sprung the festival into life on the sun-soaked opening day, first up on the boldly titled 'You Need To Hear This' stage. The label ultimately appeared to be apt, as the tent boasted performances from an array of up and coming acts that are sure to feature heavily on the bigger stage in the near future and proved to be something of a musical backbone to this year's Beacons.
Sharing the stage with Battle Lines on the Friday were the likes of
Traams
(pictured), with their Neu! inspired jumpy rhythm and edgy Pavement-esque vocals performing back-to-back slots with the roaring indie-punk of
Eagulls
that brought a steadily increasing crowd in and around the tent. The buzz then culminated in
Fucked Up
frontman Damian Abraham diving amongst those jumping around at the barrier in a raucous set from his group.
The much bigger and main stage 'Loud and Quiet' provided a varied line-up of artists on the same day, with everything from
Egyptian Hip Hop
to
Ghostpoet
entertaining. The latter paved the way for headlining
Bonobo
with his flowing vocals set to a haunting backdrop of beats; a stark contrast to what was going on a mere 200 yards away with Fucked Up.
Saturday brought showers and sore heads, with a late night nostalgia-induced house session from
John Talabot
, in the Resident Advisor tent on Friday night, much to blame for those feeling the effects of a musically packed opening day.
Beacons was imminently brought back to life however, as the chugging riffs and snarling vocals of
Findlay
graced the 'You Need To Hear This' tent – kick starting an impressive Saturday morning of music which also featured the likes of the harmonious
Wolf Alice
and ex-Coral guitarist
Bill Ryder-Jones
, with his acoustic guitar accompanying his narrative lyrical style.
Those seeking refuge from the rain and huddled in the 'Loud and Quiet' tent were otherwise soaked, as a sea of psychedelic-tinged melodic rock flowed when
Temples
took to the stage and provided one of the weekend's highlight sets. A short technical difficulty during second single 'Colours to Life,' failed to mar their standout performance, which made way for further captivating
Melody's Echo Chamber
and the intricate pop sounds of
Dutch Uncles
in an impressive collective few hours of live music on the main stage.
Elsewhere, for those still struggling after the previous night's antics, a whiskey tasting session flowing straight into a showing of
The Stone Roses: Made of Stone
with a Q&A Session hosted by director Shane Meadows were two interesting cultural additions to Beacons this year. For those who wanted to separate from the main arena for a while but still partake in two of a festival goer's most popular pastimes, the consumption of alcohol and music, the 'Into The Woods' tent provided the perfect solution.
Keeping those plowing through and braving the conditions, buzz bands
Telegram
and
Childhood
proved why their names are being slung around as word of mouth hype slowly builds around them. Although the band were a little more subdued than usual, dreamy duel guitar work on Childhood's first single 'Blue Velvet,' did the talking as Saturday's 'You Need To Hear This' stage was drawing to a close.
Thankfully, the final day of Beacons was met with warmer weather and clearer skies. Rather contrastingly however, the music greeting those that headed to the arena early was that of a darker nature.
Dark Bells
and
The Wytches
played successive slots, with Brighton-based Wytches airing their Cramps-meets-White-Stripes sound and storming through their short set.
Splashh
took things in a different direction over on the main stage a little later on, with their wavy take on Vines-style new punk vaunting some hair-raising crescendos. Splashh, with the psychedelic pairing of
Moon Duo
before them, were the peak of musical offerings on the final day – as the main stage drew to something of a dull and uninspiring close with overly produced pop-rockers
Django Django
attempting to cap the festival off in style. Those detaching from this however had
David Rodigan
MBE over at The Social arena and
Theo Parrish
at the Resident Advisor tent in what was a hugely versatile close to another successful Beacons Festival.
Drenge
showed why sometimes simplicity is the key on the Sunday, compared to the over the top bouncing around of Django Django, as the two-piece made up for their lack of members with a loud and racy set that included a tongue in cheek rendition of the Etta James hit, 'I Just Want To Make Love To You,' with their alternative and crass 'I Don't Want To Make Love To You.' The all-female quartet of
Savages
shrieked soon after before
Uncle Acid and The Deadbeats
closed the action and Beacons closed its gates for another year.
As the crowds dispersed into the Dales,
Beacons Festival
ended another weekend that sought to bring not only the best current new bands but pair them with the more established, whilst all the time offering different alternatives and genres in order to cater for everyone. For a 'boutique' event such as this, it's undoubtedly commendable and will surely see the festival keep growing in years to come.