Axel Flóvent @ King's Head Members Club, London 18.05.16
Rising Icelandic indie folk singer-songwriter live in the captial
May 18th, 2016 at King's Head Members Club, London / By
Jethro West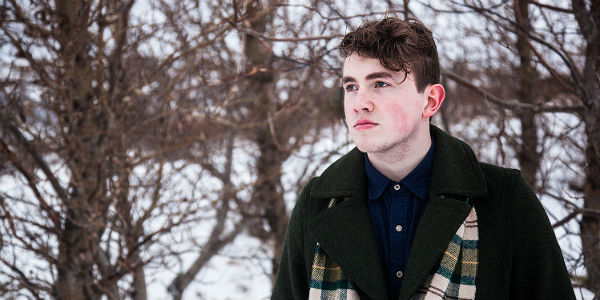 Despite coming from the land of the ice and snow, Iceland's
Axel Flóvent
brought with him a touching sensibility that warmed the heart and melted the emotions. It was a night where not even a taxidermy chimpanzee wielding a machine gun in the corner(*) could force your attention away from the stage.
The intimate basement of the King's Head Members Club provided the perfect venue for Húsavík's up-and-coming singer-songwriter to serenade the audience with a romantic poeticism reminiscent of fellow Nord, José González. Everyone was seated, and be it on the quilted seats or the wooden floor, everyone embraced the wave of smooth, lingering falsetto that washed over them.
Axel, with his ensemble of guitarist, bassist, percussionist and backup vocalist, opened with the delicate 'Nightlife'. It's tactful piano bars shrouded in Arctic drones and mesmerising vocal harmonies truly embodied the harrowing lyric "
You won't notice/The fall I'm sure
". The set soon transformed as the keyboard was swapped for six strings, manifesting itself in the title track from the debut EP,
Forest Fires
- a masterpiece of modern folk. Perhaps confessional in tone, brooding emotion was interwoven in the complementing layers of acoustic guitar, percussion and ambient vocals while the lyrics simply spoke for themselves: "Your dreams are incredibly loud tonight/You're creating forest fires".
Few words were uttered in between songs by the 20-year-old who's been creating music and performing in Iceland since his late teens, but his stage-top introversion detracted nothing from Axel's musical expressionism. This was completely demonstrated in 'Dancers'; the most memorable song from the night.
Progressive, beautifully atmospheric and lyrically mature -
Axel Flóvent
finds himself amongst the best of what Iceland's refreshingly creative music industry has to offer. Ensure you see him amongst other young Nordic talent at the Kopparberg Urban Forest at Citadel Festival in Victoria Park this July.
(*and if you've never been to the King's Head Members Club, you really ought to go!)