Art Brut @ Bull & Gate, London 07.12.11
With a (marginally) less bitter, southern equivalent of Mark E Smith as front man, Art Brut's visceral punk sound is infectious and addictive. For two nights they brought their distinctive sense of humour and whimsical riffs to life at the famous Bull and Gate, Kentish Town. James Labous was there with his punk-o-meter.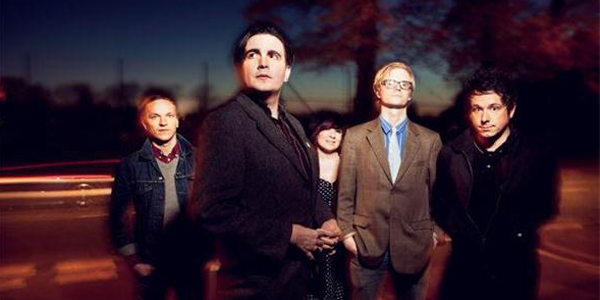 The room had an electric vibe. We had entered through the bar area, which felt like a classic North London boozer, through some ostentatious double doors and into controlled mayhem - intimate, without feeling like a Friday night open mic night. Now
The Brute Chorus
were blasting scuzzy bass lines and sonic guitars onto Edwardian plastered walls, back into curly hair-covered ears. Chaotic yet polished, they exited to rapturous applause. Earlier,
No Cars
had washed the crowd with their lighter, but no less enjoyable, brand of folk pop.
The atmosphere had built into a wall of anticipation, but nothing could prepare me for the presence of
Art Brut
on stage. Raw power riffs combined with the ironic rants of Eddie Argos - "Formed a band, we formed a band... Look at us! We formed a band!... This is my singing voice, it's not irony, it's not rock n roll..." You get the idea... he doesn't sing, basically.
The distinctive technique is zero aesthetic and pure attitude. Argos' very English and self depreciating poetry makes you laugh and cry simultaneously. Each band member jostling playfully with the crowd, smiling and laughing, they're clearly having fun and are at ease with themselves. They laughed as hard as the crowd whenever Eddie went off on an improvised foray of wordplay, rhythmic and spurious.
And the cheerful front often thinly veils a darker wit beneath. Almost like a Tourettes syndrome sufferer, the ad libs descended into rambling esoteric experiments, loosely based on the original theme of the song. Halfway through the set, it was revealed that Emily Kane contacted him after she heard the song written about her. She's married now... Then back into refreshing and energetic guitar noise, the likable sense of humour and don't give a shit attitude urging the crowd to sing/shout with enthusiastic aplomb. There's no taking yourself too seriously, there's no faux coolness, just pure "this is a laugh".
Guitarist, Jasper "Jeff" Future resembles a tall Swedish indie kid. He could be the brother of drummer Mikey Breyer, and together they played with the audience like cartoon characters. At one point Breyer raised both sticks to the air, ready to execute an exaggerated symbol crash. He kisses both guns before hitting them to end the song.
Then Eddie started taking the piss out of Jasper when he messes up a guitar line. You're never quite sure whether this is playing to the crowd, as Jasper tries and fails for the sixth time to start a song. It doesn't matter, it's funny as hell. But it's the quality of the songs and lyrics which is why this band are so loved by their underground fan base. Like in 'Alcoholics Unaminous'... The song about being at work with a hangover - "bring me coffee... bring me tea... I've been making mistakes... I've been hiding it well."
'DC Comics and Chocolate Milkshakes' strikes a chord with every Simon Pegg think-alike... "Some things will always be great... even though I'm 28."
And of course, the inimitable 'Emily Kane' - "I was your boyfriend when we were 15, it's the happiest that I've ever been. Even though we didn't understand how to do much more than just hold hands... if memory serves we're still on a break." You'd have to be a Christmas scrooge to not at least warm to them at least a little.
Support the next night was by Keith TOTP and his Minor UK Indie Celebrity Allstar Backing Band, who were apparently a lot of fun. This two day residency was in the "the spirit of occupation", to celebrate the birthday of Club Fandango... And for two glorious nights, punk was alive and well in Camden once more.