Annette Berlin Plus Friends @ Cafe Kino, Bristol 21.07.12
Cafe Kino plays host to popular Bristol night 'Plug 58'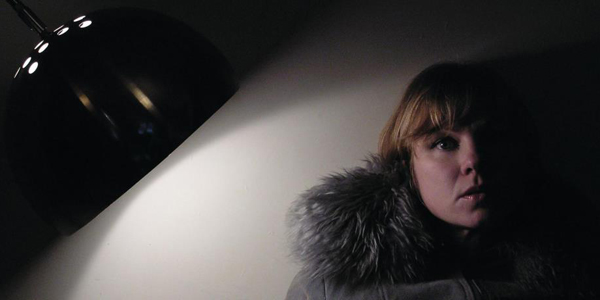 With the centre of Bristol teeming with Harbour Festival attendees, Saturday night in Stokes Croft becomes a much more peaceful affair than normal. One has to laugh, when the hordes fenced into a once picturesque Queen Square by a ring of sausage stalls are unaware that for the price of a single sausage, or a spoonful of Thai green curry (with potato in?!) they could be sat in the company of well-informed and smiling intellectual types, witnessing a world class line-up. A line-up constructed with care, performing feet in front of you, a good quality beverage in your hand, a feeling of belonging . . .
The announcement of Jess Marlowe's cancellation due to illness was a blow, but a blow softened by our host Rasha Shaheen's simply stunning choice of other acts.
Tamer Abu Ghazaleh
sings songs of human experience (full spectrum); his voice is pure and powerful, and fairly easy to understand, despite the language barrier. He accompanies himself with some calming and captivating oud playing, and is accompanied, in turn, by two of his regular ensemble,
Khaled Omran
, who is a ultra-precise, and yet very expressive bass player, and
Khyam Allami
, who rivals his rhythmic counterpart in both departments. One could get lost in the sounds produced by any one of these three maestros, as a trio they lift hearts with their brand of New Arabic dance and rock tinged alt-folk. It's inspirational stuff that would have you transported to these not-so-far-off lands, or at least be longing to visit them, to travel, to move . . . When Allami threads in some digital effects there's not a static limb in the house.
Maurice Louca
(who resides on the 100 copies label) sometimes plays as part of the Alif Ensemble (featuring Ghazaleh, Omran, and Allami; signed to Nawa Recordings/Eka3), and that must be an extraordinary thing. When performing solo it is the sheer depth of his electronic ramblings that grabs you by the brainstem, never letting go 'til the applause breaks. Imagine, if you would, a DJ spinning five perfectly synced records at a time, for Louca has all the focus and skill of such a thing, as his fingers flit about his table of gadgets, working the keys, buttons and dials, and turning the condensed wave files and baby electrical charges into a dense audible undergrowth, rich with life. On the surface it's a place of ordinary mystery, deep inside though, it's a veritable ecosystem . . . intense, peaceful, melodic, and quite beautiful.
Grabbing the headline slot, but sharing equal billing with tonight's other performers, is
Annette Berlin
, who shares the stage with her
Big Joan
bandmate, drummer,
Keith Hall
. Berlin plays with the standard punk rock electric guitar formula, offering some interesting chord shapes, and back of the beat languor, which balances perfectly with her dog-at-the-throat, refined and harmonious howl, that softens occasionally to something much sweeter, and equally effortless. Hall too, shifts from standard (though extremely well played) patterns to original and eye-bulging fills, and pure rhythmic dynamism. Aspiring drummers could do worse than watching his wrists at work for an hour or two, for therein lies the secret. Berlin's songs are simple and always catchy, and tonight her broken distortion pedal even becomes a charming addition to an exquisitely raw set, that contrasts superbly with the previous acts and rounds off this highly eclectic evening with a fiery crash, one that leaves a warm glow in the belly; most magical, and brilliant at every moment.