And So I Watch You From Afar @ The Garage, London 16.04.13
And So I Watch You From Afar are the most incredible band this writer has ever seen live. Ever. As far as post rock bands are concerned, no one else even matters any more.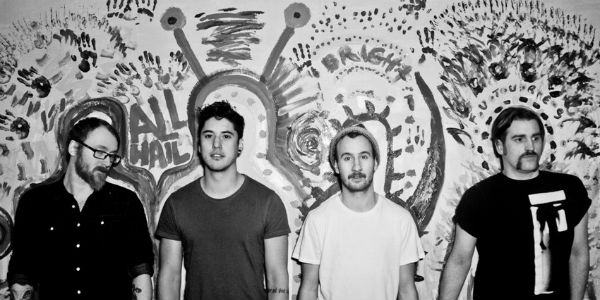 Tonight was always going to be good, but for something so beautiful, so epic, so special to come from within London's Garage took me completely by surprise. Never have I been more impressed by a band's live performance.
This four piece from Ireland are unique. They are a band of brothers in the truest sense. They clearly love each other, love their songs and adore their fans. This is the formula responsible for the special sound they produced tonight. Without any stage facade, glaring lights and a tonne of lyrics to fall back on,
ASIWYFA
managed to captivate an entire room. The word magical does not do them justice.
This is ASIWYFA's first sold out concert outside of Ireland. They are grateful and humble (note frontman Jonny Adger finishing every song with a thank you) and phenomenal; deserving every inch of adoration they are receiving tonight. Right from the first song the boys are playing like they're trying to destroy the building. Except it's not just loud, its perfect. Tom Wee is not your average drummer. His energy and skill provide the rest of the band with a wild and insane beat, not once struggling or fading away into an unnoticeable backdrop.
By the time their third song 'Ambulance' starts, everyone in the room is completely covered in sweat and altogether captivated. It is rare and exciting to witness a crowd so consumed by the band, that when they pause, the room turns silent; every person hanging off the last note, desperate for more. ASIWYFA own tonight.
Adger describes 'S is for Salamander' as a song to dance to. And so the room danced. Rory Friers and Niall Kennedy's guitar playing is an overwhelming ride of stupefying calibre. Their synchronised playing is flawless, allowing the sound to reach that of thrashing dexterity.
ASIWYFA refuse to commit to just playing the standard post-rock sounds of crescendo guitars, textures and epic harmonies, their songs have their own fearless formulas, building a grandiose atmosphere which could never be replicated. When they do use the genre specific traits, they are done with such power, such boldness, it transports them into a whole different dimension of rock genius.
Despite the band reaching their encore of 'Set Guitars to Kill' and 'Voiceless', they show no real signs of tiring. You only have to look at their faces to tell that they are throwing everything they have at this show. A mix of intensity, and desire sweeps across their faces as they grimace at every note, dying to please, and not to falter.
The show ends with the band bowing and grinning. The crowd are memorised, blown away and just all out impressed; clambering to the stage to get nearer the men who just provided them with the greatest show they had ever seen. I repeat, no other post rock show has or will beat tonight. All Hail Bright Futures indeed!!